After lows this morning of 44-54, highs today reached 64-75.
Severe weather outbreak will continue this evening-tonight with ENHANCED to MODERATE RISK from SPC in the Plains.
As of 10:30 pm, there have been 12 tornado reports in Kansas with wind gusts measured up to 91 mph in Nebraska. Hail up to grapefruit size has also been reported.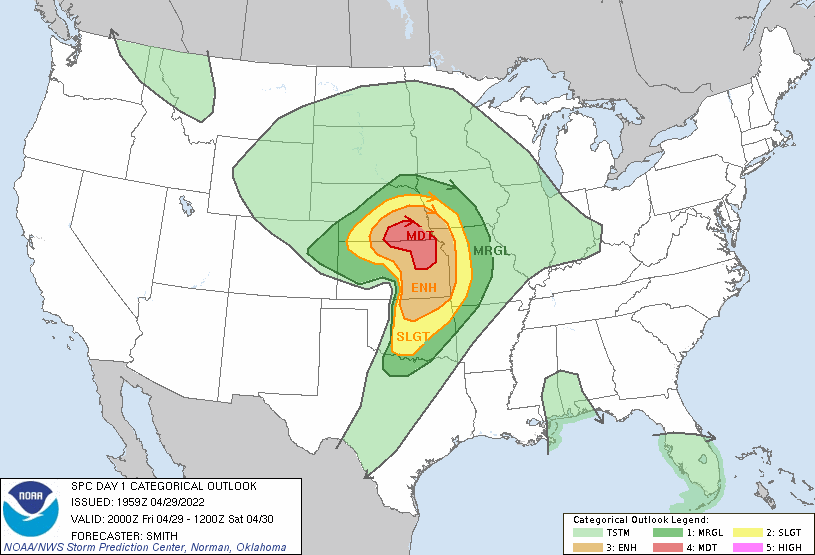 Sequence shows these few scattered showers departing, then break, then showers with isolated rumble of thunder overnight, then break, then wave of showers & a few t'storms late tomorrow morning-midday.
With east-southeast to southwest tonight 15-30 mph, lows will vary from 46-58 from northeast to southwest.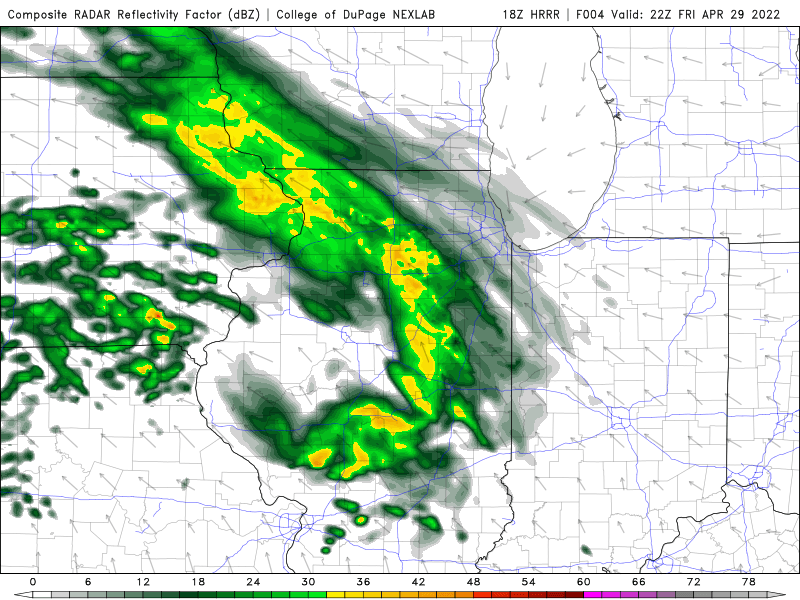 Break with some sun & windy conditions (gusts to 30-40 mph from south-southeast) will likely then propel our highs to 72-79.
Dew points will rise to 63-67.
Severe storms should fire in central Illinois rapidly around 4 pm as supercells.
These will race eastward & new storms will for out ahead of these.
So, in our severe weather risk time frame from 5 pm to 1 am, it looks like a mix of supercells, multi-cells & a gelling QLCS squall line.
Some severe gusts & a couple EF0 to low-end EF2 tornadoes cannot be ruled out.
Isolated severe hail is possible.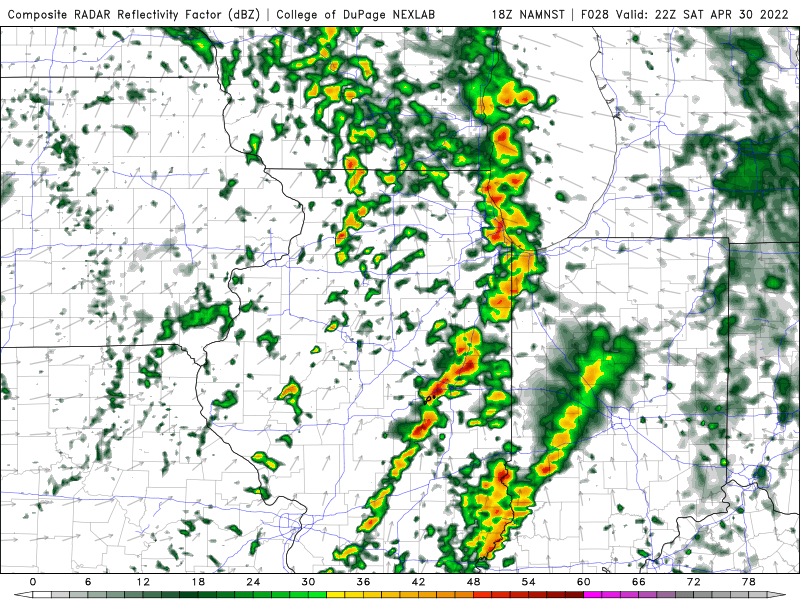 Greater Lafayette considered sound at 5 pm motion.
The rainfall lingers longer than expected into the afternoon-evening ahead of the storms & we see less sun & warming overall.
Otherwise, it sure looks like a SLIGHT to ENHANCED RISK scenario.
SPC is currently available in SLIGHT RISK for severe Saturday evening-night.
Potential is there for upgrading given the parameters in place, but that potential of lingering rainfall is a fly in the ointment.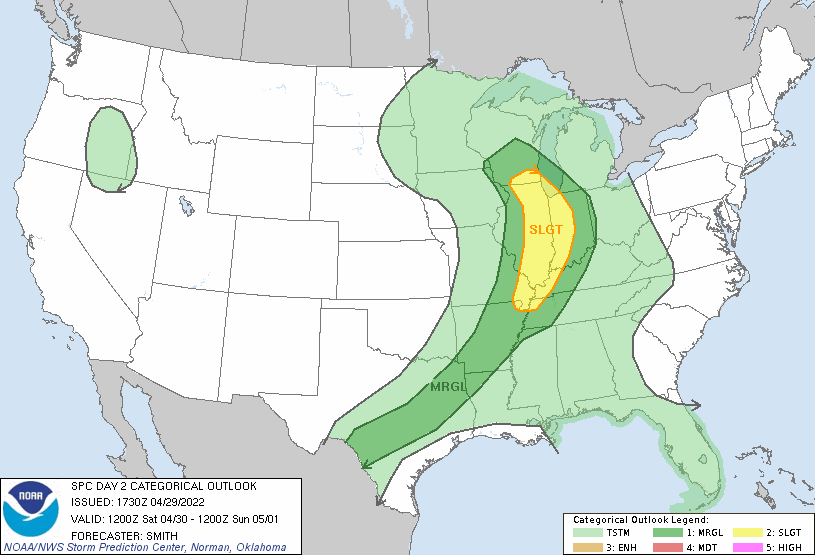 If upgraded, ENHANCED RISK would probably be painted like this latest 18z (afternoon) data model: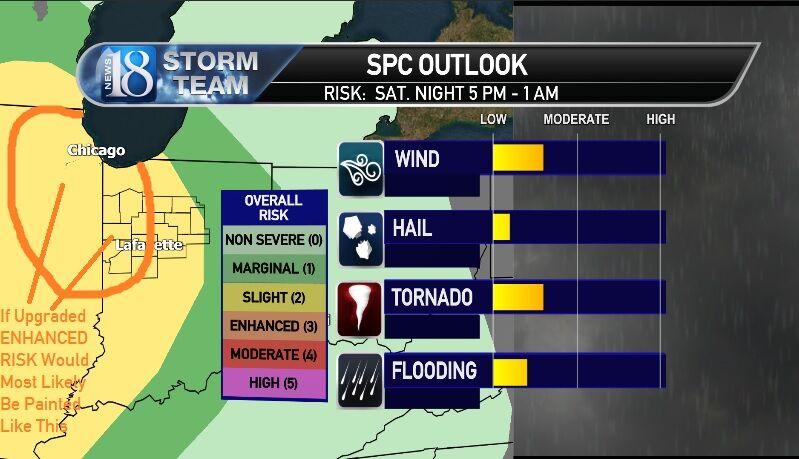 Sunday looks dry & windy with south-southwest gusting 30-40 mph.
After mostly sunny skies, skies look mostly cloudy with the greatest amount of cloud cover in our northwestern counties. So, the coolest temperatures will be there.
Highs of 63-72 (northwest to south & southeast) are expected.
Sunday night looks dry with mostly clear to partly cloudy skies & lows 43-49.
Monday looks dry and mostly cloudy with highs 67-75 with southwest winds.
There will be a lot of severe weather west & southwest of our area Monday.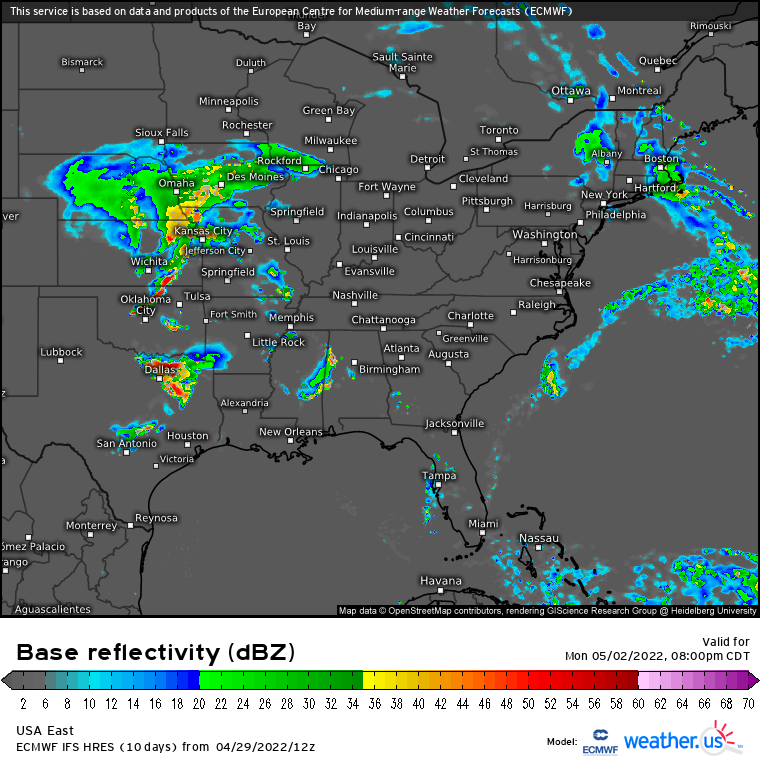 We cloud up Monday night with lows in the 50s to lower 60s with south-southeast.
It looks like a round of rainfall & t'storms Tuesday morning.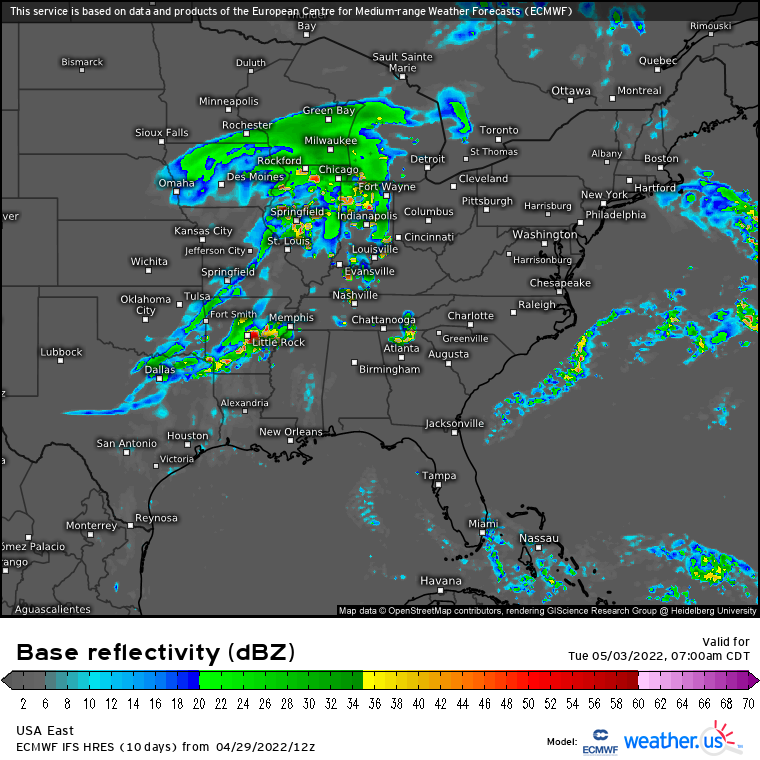 A break may follow with highs 68-75, but new showers & storms will likely affect us late afternoon-evening & into the night.
Data does not support severe weather risk with SLIGHT RISK-type parameters making it into our area late afternoon-evening.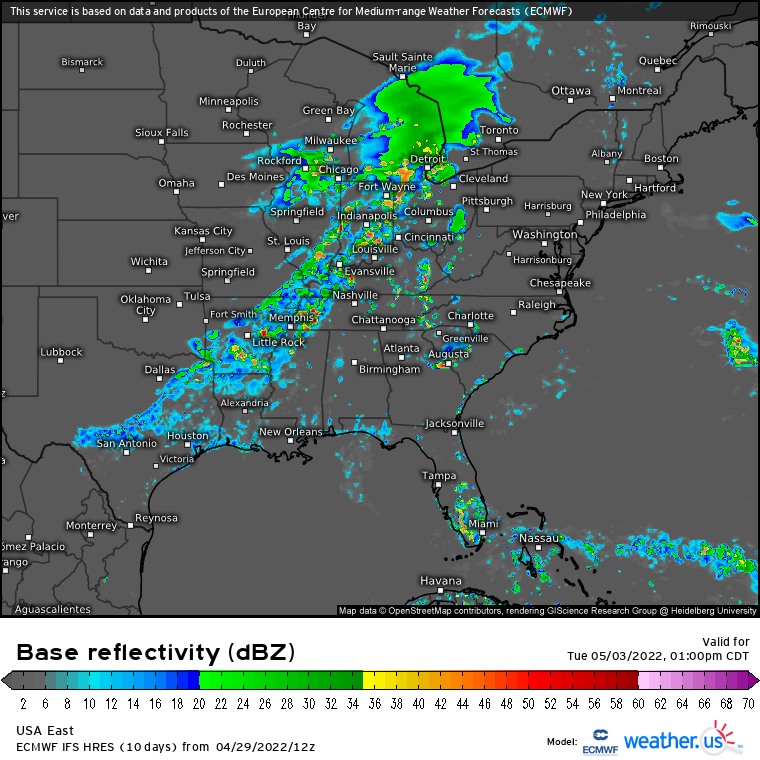 After that, all the severe weather risk is better southwest of our area Wednesday-Wednesday night.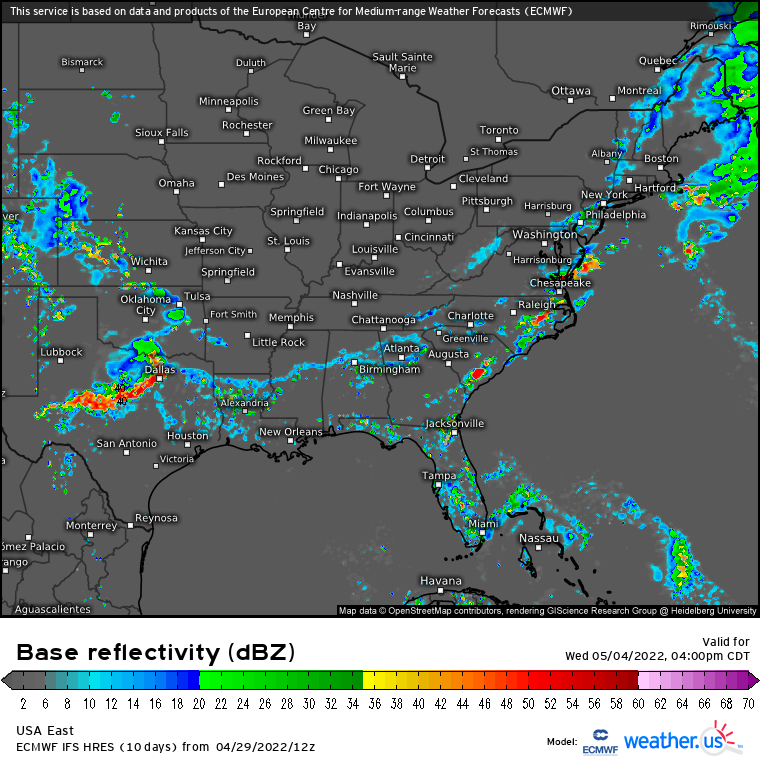 A lot of severe weather will continue to occur in the Plains to Thursday.
We see showers & t'storms here, but there is a lack of severe weather risk.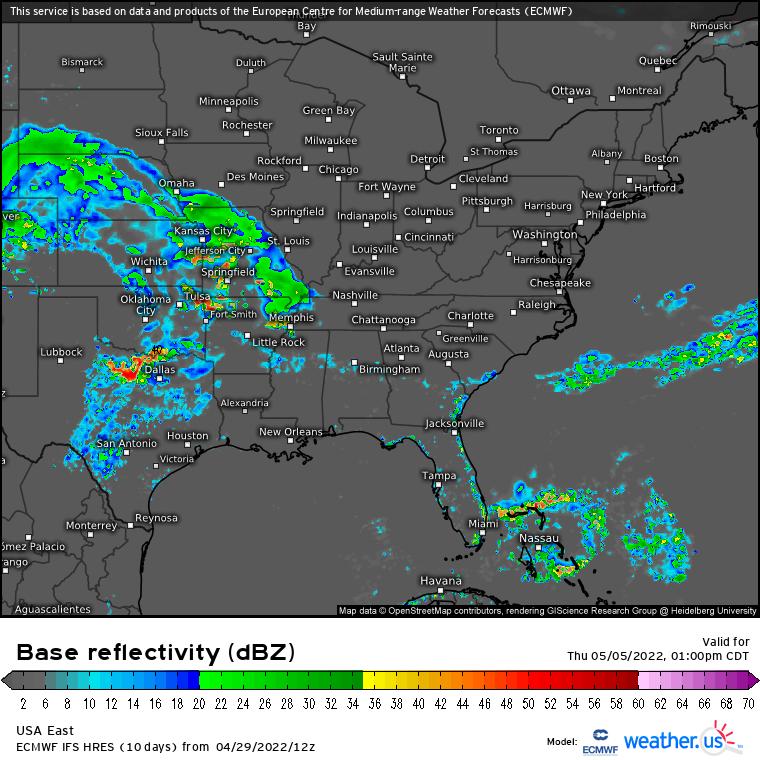 The low will occlude rapidly weaken & sort of wobble southeastward.
This will keep severe weather risk all southwest & south of our area at the end of next week.
However, it could bring cool, showery weather Friday as a core of upper low pivots through our area.
Total rainfall over the next 7 days (starting today) should run 2-4 "with potential of a couple / few +4" inches.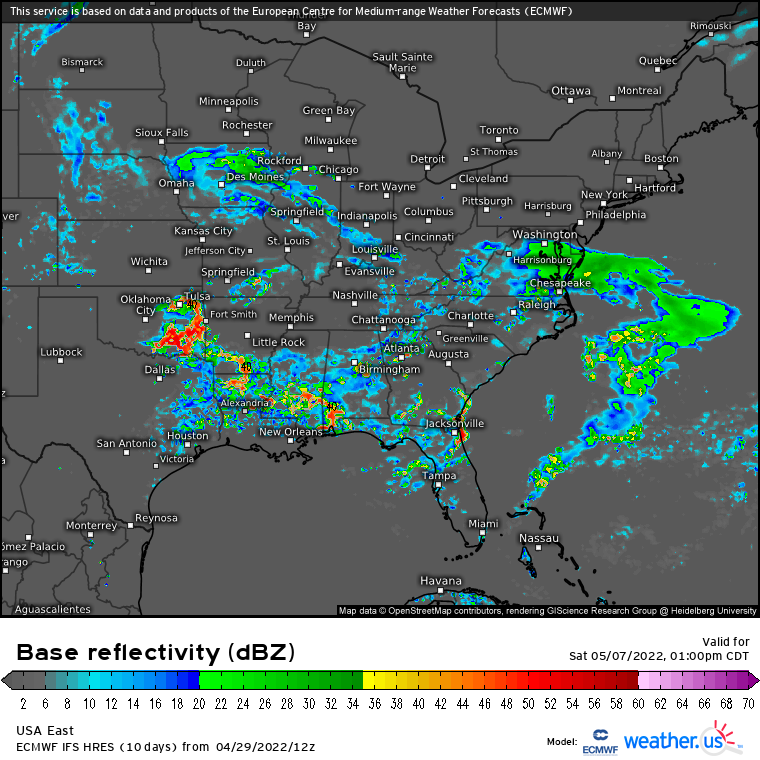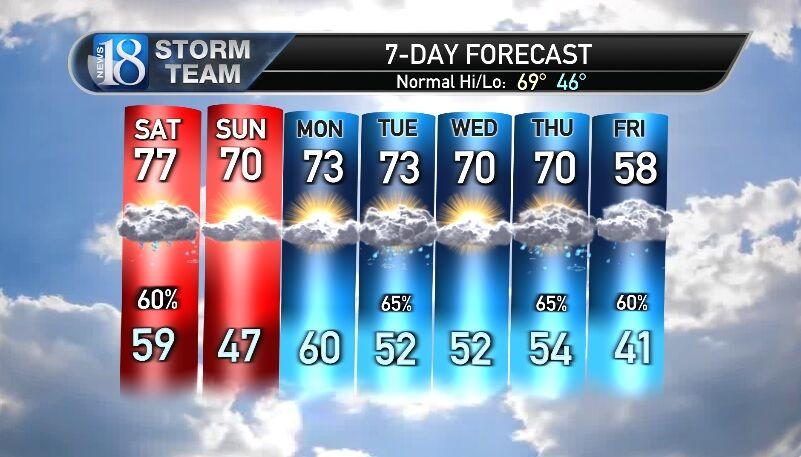 Still looks like the potential of some frost next weekend (Saturday night & Sunday night) with lows 32-35.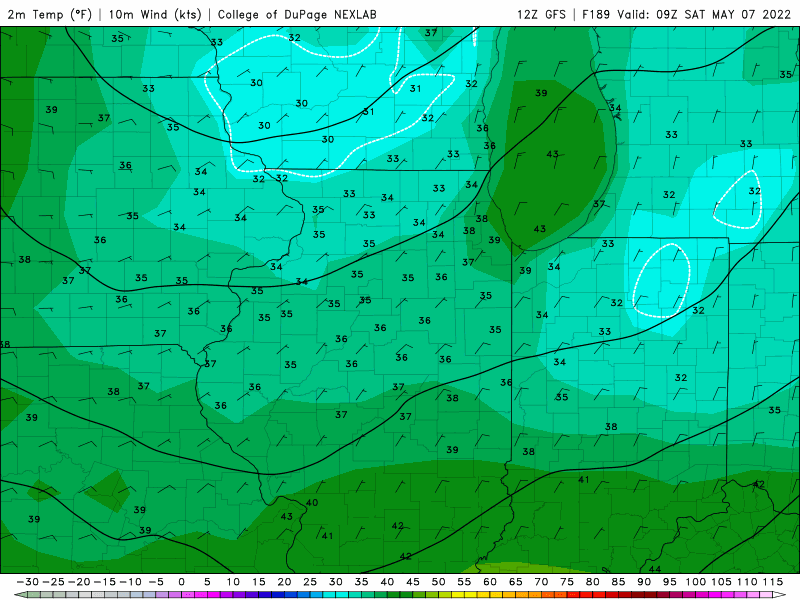 After that, there is a stretching evolving of much warmer, drier weather.
Note the rainfall projection anomaly change from late April-early May to early to mid-May.
We go very wet to dry!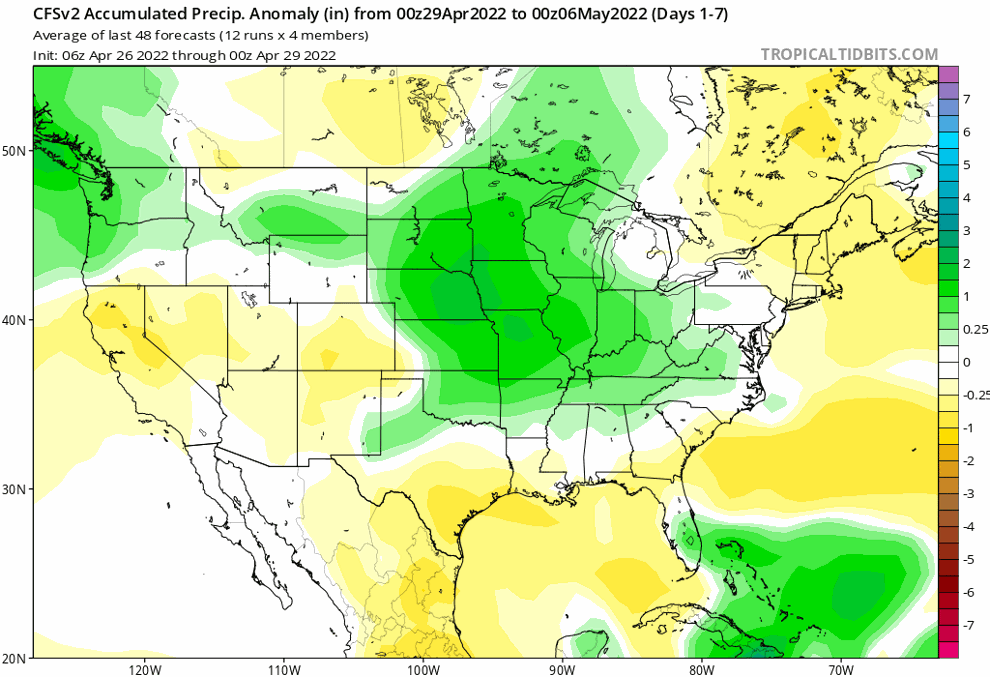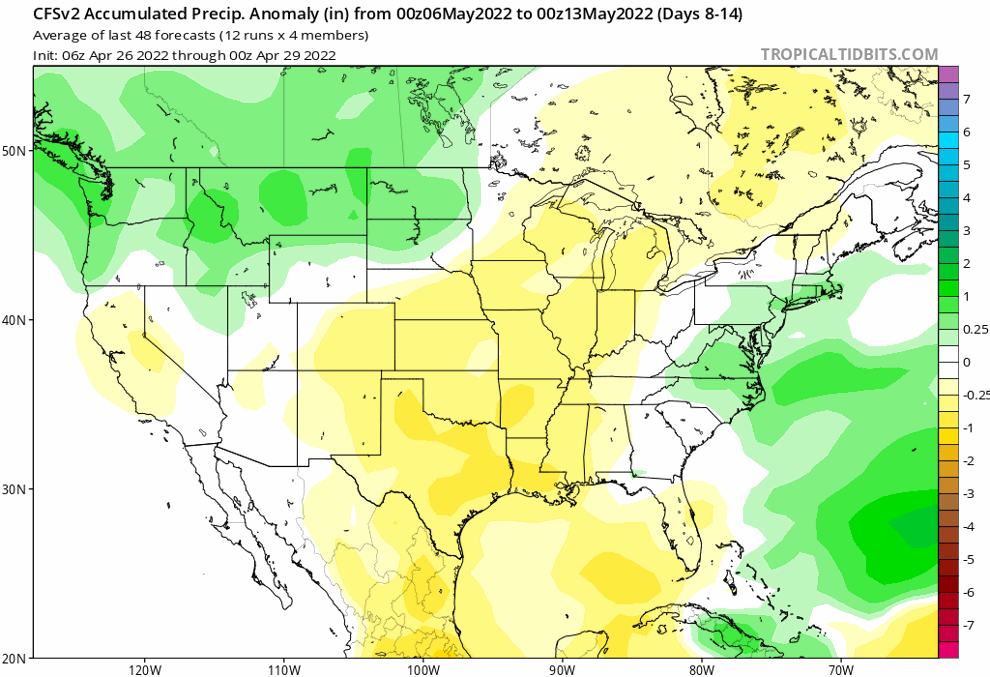 You combine the much drier trend with these temperatures covering a good chunk of Canada & the central & eastern US & farm equipment will be rolling with a frenzy.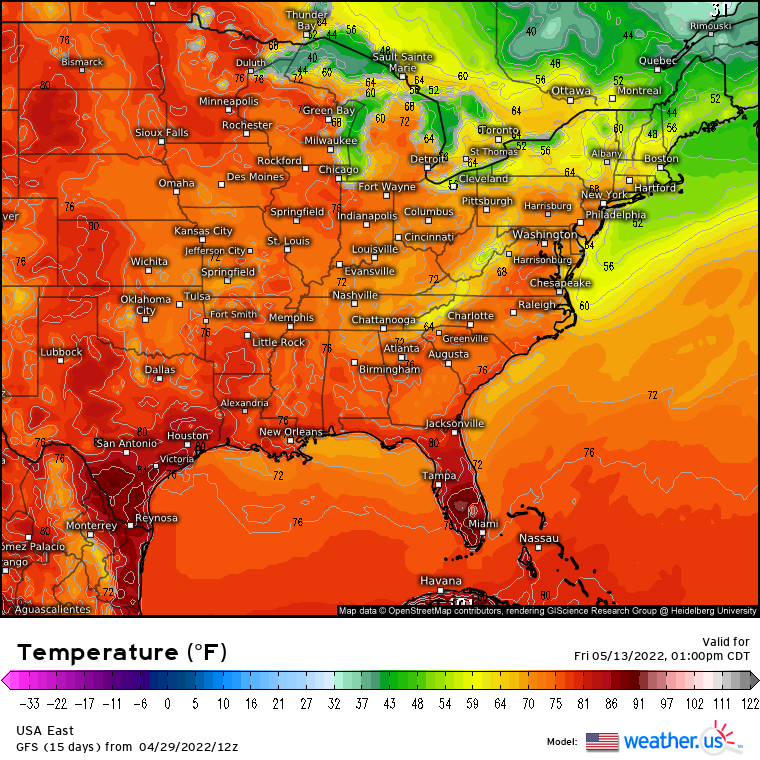 There continue to be a strong tendency for big, big summer warm-ups mid to late May.
Now, we are likely to have a few rounds of rainfall and severe storms after the mid-point of May.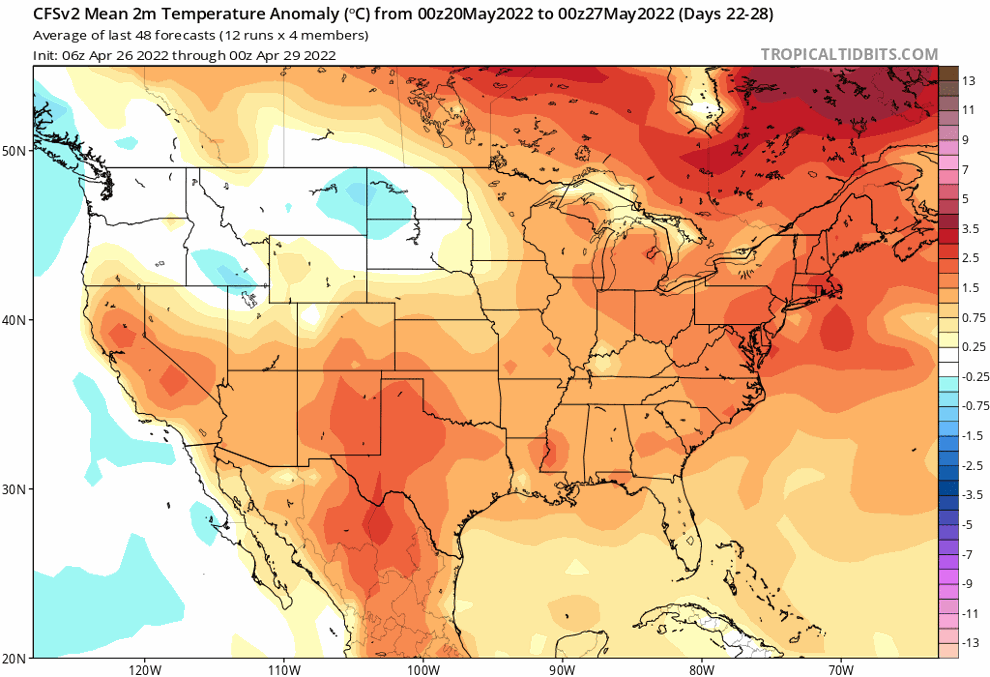 There is a tendency though for hot, drier weather to end May & move into early June.
This will tend to allow farmers to get the rest of the crop out, but I think May be a huge month for getting much of the corn & soybean crop planted.
Temperature anomalies: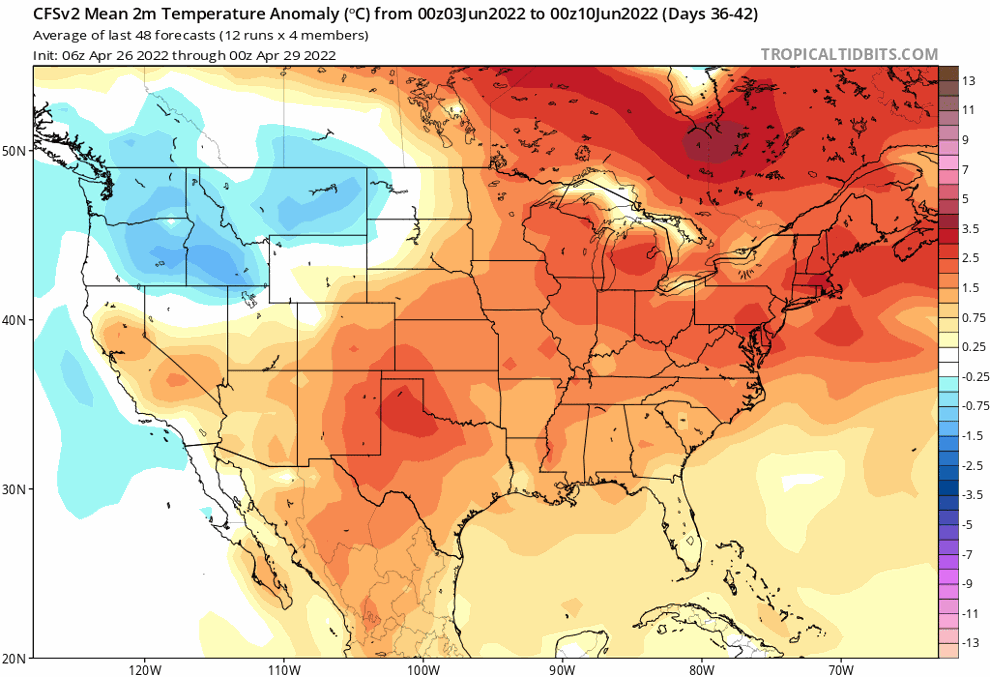 Rainfall anomalies: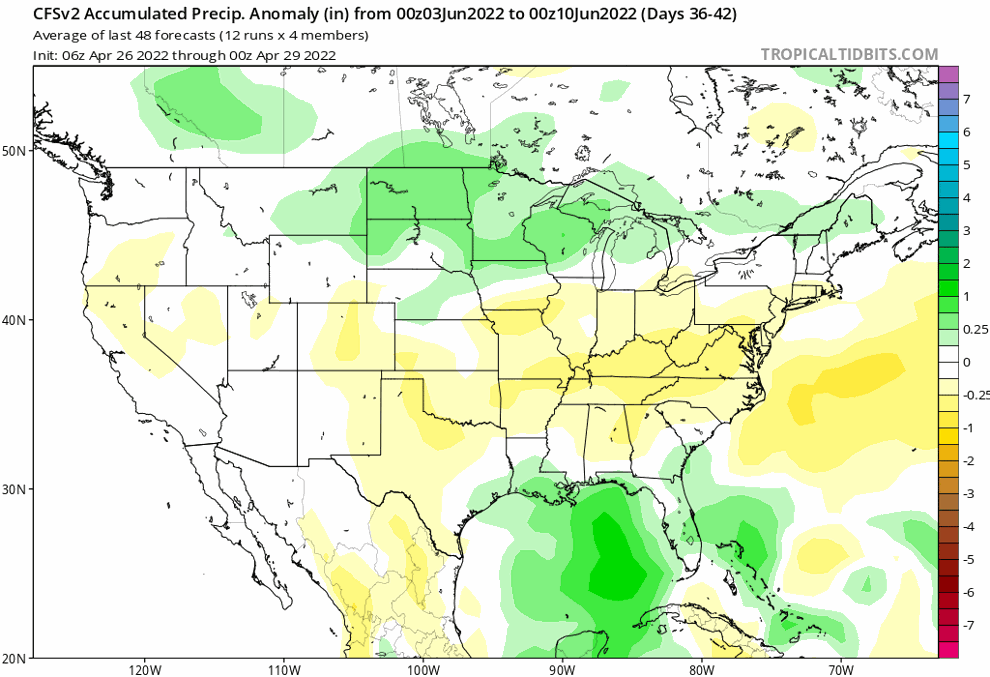 .