Cabinet OKs changes to startup, IT policies Goa News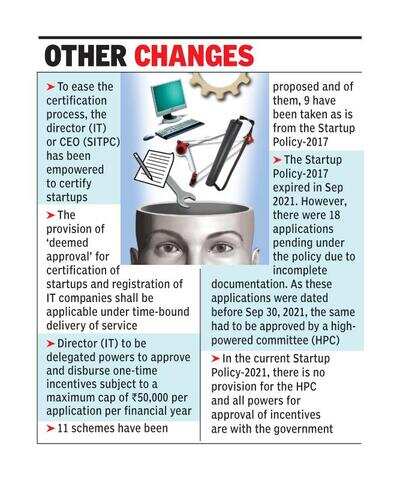 Panaji: The state cabinet on Wednesday granted approval to amend the Goa Startup Policy 2022 and IT Policy 2018 to reinstate the Seed Capital Scheme.
The amendment also provides for creating a Startup IT Promotion Cell (SITPC) to cater to the Startup Policy 2021 and IT Policy 2018.
"Startups with a minimum viable product can get a one-time grant of up to Rs 10 lakh. The funds for would be provided from the seed capital," a cabinet note reveals.
The promotion cell will be the nodal agency to register, recognize, certify the startups. The IT secretary will be its convener, while the director (IT) and CEO (SITPC) will certify the ventures.
The cell will have to report to the empowered committee (EC). The committee will oversee policy implementation and grant approvals for the disbursement of incentives. Applications received under this policy and the IT Policy 2018 will be processed by the cell.
"It will conduct in-house startup and IT ecosystem programs and also invite industry experts and professionals including empaneled agencies for assisting the ventures in statutory matters regarding company formation, filings, accounting and taxes," the cabinet note said.
The approval was granted to make necessary amendments to the IT Policy 2018 for reconstitution of the empowered committee and to broaden its purview to oversee the implementation of the Startup Policy 2021.
The cabinet also granted ex post facto approval to extend the nine schemes that were defined under the Startup Policy 2017 to the Startup Policy 2021 with enhanced benefits.
Amendment will also delegate powers to the director (IT) to approve and disburse one-time incentives like trademark reimbursement, IPR reimbursement, patent filing reimbursement, registration, stamp duty etc., subject to a maximum cap of Rs 50,000 per application per financial year under the Startup Policy 2021 and IT Policy 2018.
FOLLOW US ON SOCIAL MEDIA
FacebookTwitterInstagramKOO APPYOUTUBE
.