Carencro's 2022 football preview: Golden Bears "very dangerous" behind wealth of experience offensively | High Schools
What We Know
Offensively, everything starts upfront with the offensive line and for a team like the Carencro Bears it is imperative the big guys in the trenches are solid.
So, it is understandable that Bears head coach Tony Courville would be ecstatic by the fact Carencro will be stout along the offensive line this season considering they return five of six blockers – including tight end Kameron Cyprien.
"We call them guys up front of the foundation," Courville said. "And it is true because they are the foundation. It all starts upfront with them. There is no secret their blocking and protecting upfront for the running backs and the quarterback is critical."
In addition to Cyprien, the Bears also return Isreal Jolivette, Jovan Miller, Kenwine Bruno, and Gregory Bush. Jolivette, Miller and Bush are all three-year starters, while Bruno is a two-year starter. The newbie to the group is junior Darion Gabriel, who despite being a first-year starter, did play "significant minutes" last year.
"We're a heavy run team, so we rely on our offensive line a lot," Courville said. "The offensive line is very important to everything that we do. I mean, we have two offensive line coaches. That's how important that group is to what we do. They are going to set the tone for us."
What We Don't
We'll never really know what the 2021 Bears could have been, as their roster was decimated by season-ending injuries suffered by key skill guys.
How those guys who suffered injuries last year that returned this season rebound, is going to go a long way in determining what the Bears can accomplish in 2022.
"I guess what we don't know is if we can stay healthy," Courville said with a chuckle. "In order to have a truly successful season like we had in 2020, you have to have some luck. Last year, we were on the wrong side of luck in terms of having bad luck."
Another concern, which hadn't been worried about in years, is how well the Bears will be on special teams – most notably – in the kicking game.
"Special teams are important, and it takes everyone on that unit to do their job in order for us to be successful," Courville said. "We're going to have a new kicker this year, so it's the first time since 2017 that I won't have a Royer (Gavin or Jaron) kicking for me."
Although Doucet, a sophomore, has yet to kick in a varsity game, Courville and the coaching staff are confident he can fill the void left by Royer.
"Jude reminds me of Gavin," Courville said. "Jude has a very strong leg, and he is averaging inside the five-yard line right now on kickoffs. We're still working on his punting, but field goal wise he is solid."
How We See It
Yes, Carencro is moving up to Class 5A, but that won't be a culture shock for them as they've competed in that classification for a long time in years past.
In addition to the offensive line, the Bears also return some very talented players at the skill positions who either started or gained valuable playing time due to injuries. Among them are quarterback Chantz Ceaser, running backs Keenon Ryan and Cashmere Batiste and receiver D'Mori Francis.
"Our running backs are tackle breakers and they can get to the second level quickly," Courville said. "If we can stay healthy, we can be dangerous. I mean, we can be really dangerous."
While Courville knows the Bears have the talent to not only contend for the District 3-5A title, but they are capable of making a run at the state championship.
"In the district, we know that the district championship runs through Acadiana," Courville said. "They have been the bell cow of the district for a long time. Also, the expectation for us is always to win a state championship. We know that there are a lot of things that go into that, but that's always our goal. And I think we have the potential to make a title run."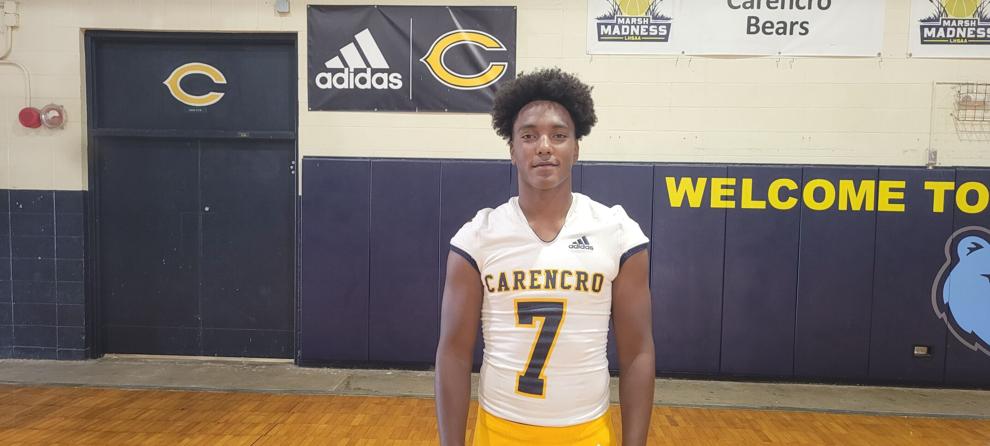 Chantz Ceaser
QB, 6-3, 215, Sr.
Ceaser is a dual-threat quarterback, who can run and throw the football equally well. Ceaser is extremely explosive and is more than capable of making all of the throws.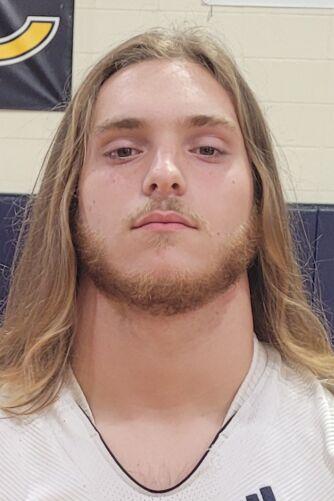 Ethan Guidry
LB, 5-10, 195, Sr.
Guidry is a standout both on and off the field. The senior class president is extremely strong evident by the fact that he was a state finalist in powerlifting and is a superb tackler.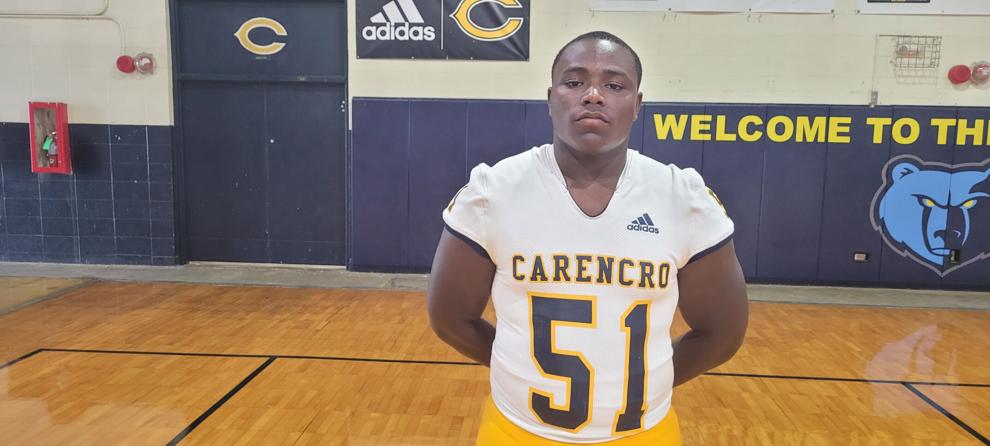 Keevon George
DL, 6-1, 250, Sr.
George is an aggressive player, whose combination of size, strength and relentless motor requires opposing offenses to double team him. George, who was a state runner-up in powerlifting, is quite the disruptor upfront.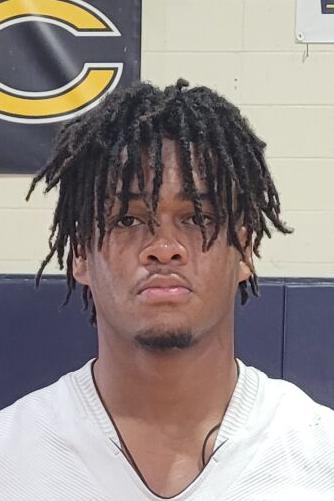 Israel Jolivette
LT, 6-3, 240, Sr.
Jolivette is a three-year starter along the Bears' offensive line. Arguably the Bears' most dominant offensive lineman, Jolivette is extremely athletic and has shown to be successful both as a run and pass blocker.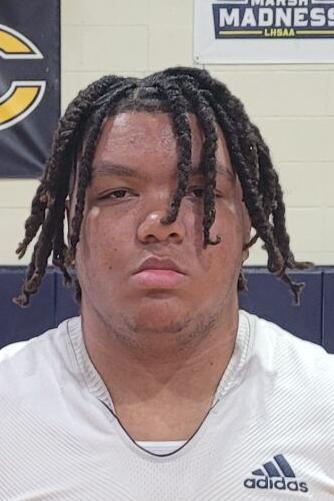 Gregory Bush
RT, 6-4, 335, Sr.
Despite his size, Bush has shown the ability to be quite nimble on his feet. A dominant run blocker, Bush is extremely physical and doesn't shy away from contact.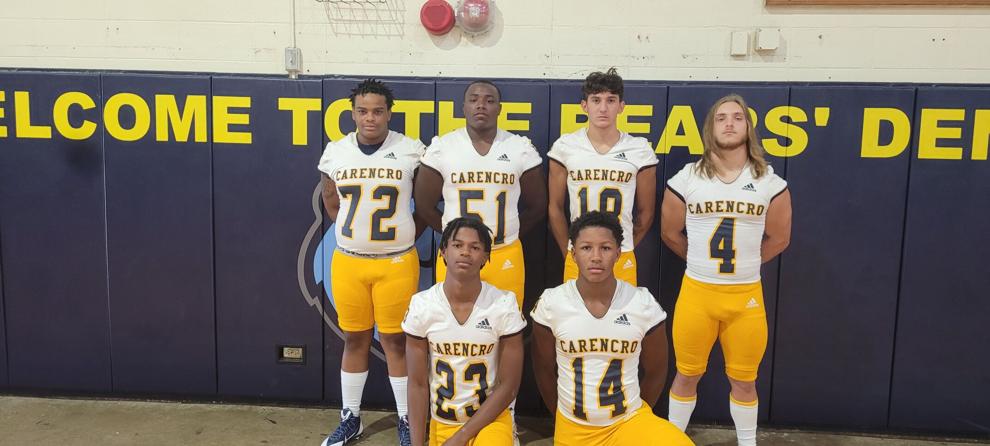 OFFENSE
WR D'Morrie Francis (6-3, 170, Sr.)*
WR X'Zorian Martin (5-10, 170, Sr.)
TE Kameron Cyprien (6-3, 215, Jr.)*
RT Gregory Bush (6-4, 330, Sr.)*
RG Kenwine Bruno (6-0, 225, Sr.)*
C Darion Gabriel (5-11, 235, Jr.)
LG Javon Miller (6-1, 260, Sr.)*
LT Isreal Jolivette (6-3, 240, Sr.)*
QB Chantz Ceaser (6-3, 215, Sr.)*
RB Keenan Ryan (5-7, 170, Jr.)*
RB Cashmere Batiste (5-7, 160, Jr.)
DEFENSE
DE Dai'jon Williams (6-1, 225, Jr.)
DT Mehki Williams (6-1, 230, Sr.)*
DT Keevon George (6-1, 240, Sr.)*
DE Kaden Powell (6-3, 200, Sr.)
LB Ethan Guidry (5-10, 195, Sr.)*
LB Khaleb Celestine (6-0, 190, Jr.)
LB Antoine Alexander (6-0, 185, So.)
CB Austin Dyson (6-1, 170, Jr.)*
CB Lance Hayes (5-11, 160, So.)
FS Joni Matin (5-10, 165, Jr.)*
SS Cohen Alfred (5-11, 175, Jr.)
*- Returning Starters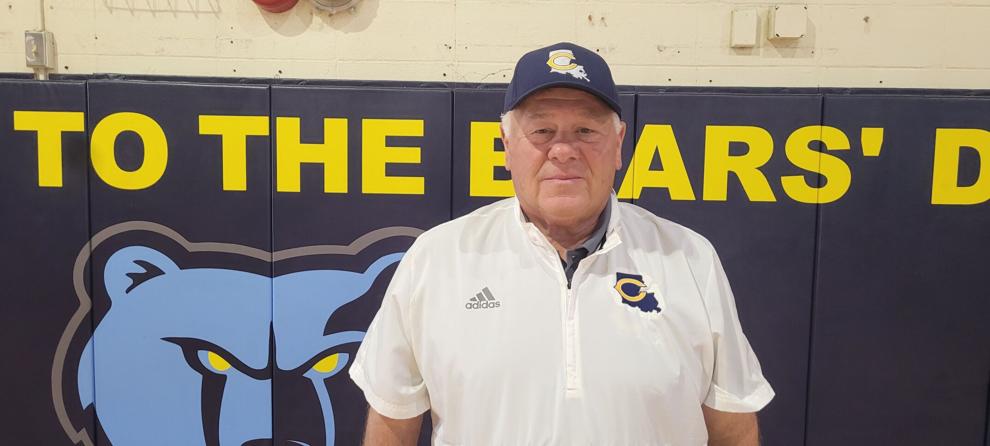 Head coach: Tony Courville
Overall records: 35-44; At school: 35-24
Assistant coaches: Michael Courville (DC/LB), Gavin Peters (OC/QB), Joey Dwyer (OL), Berrick Franchak (OL), Ben Gonzales (TE/WR), Tyler Pierce (DL), Junavion Sias (DB), Kobe Pettis (LB).
Sept. 2 Alexandria
Sept. 9 Barbe
Sept. 16 SOUTHSIDE
Sept. 23 Sulphur
Sept 30 NEW IBERIA
October 7 Lafayette
October 13 Comeaux
October 21 SAM HOUSTON
October 28 ACADIANA
Nov. 4 Open
Home games in all caps
Lost Acadiana 9-7
Beat Southside 45-21
Lost Lafayette 31-28
Lost Ruston 38-35
Beat St. Martinville 45-12
Beat Teurlings 60-30
Beat Northside 36-14
Lost Brother Martin 35-6
Lost St. Thomas More 35-28
Lost Westgate 47-21
Playoffs
Beat Bellaire 71-20
Lost Neville 19-15
2021: 5-7
2020: 12-1 (state champions)
2019: 10-3
2018: 5-6
2017: 3-7
.