CBA head calls on Ottawa to take more holistic approach to tax policy
Anthony G. Ostler is asking Ottawa to take a more holistic approach to tax policy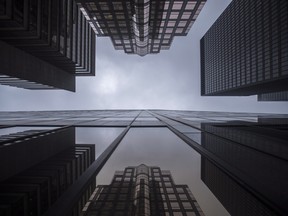 Article content
The head of Canada's primary banking lobby group is calling on the federal government to take a more holistic approach to tax policy as it effects the financial sector to boost competitiveness and more effectively motivate the push toward net zero.
Article content
Anthony G. Ostler, president and chief executive officer Canadian Bankers Association, made the case that a review of Canada's tax system to align it with Canada's shifting economy would encourage more growth and investment in the country.
Article content
"We need more carrots, less stick," Ostler said in a speech before the Canadian Club of Toronto on Nov. 24. "Tax policy must be considered more holistically to avoid unintended consequences."
Ostler added that this review could help Canada compete internationally. The CBA submitted recommendations to the standing committee on finance in October, arguing that the government should reconsider the financial institution tax and Canada Recovery Dividend and take a more industry-neutral tax approach.
Article content
"At a minimum, the Government needs to commit to a firm sunset date for the (financial institution) Tax to give investors and those working in the banking sector confidence that Canada is committed to attracting investment," the Oct. 7 report read.
Ostler also said the government needs to address Canada's productivity problem, referring to it as the key to ensuring the country's prosperity and standard of living. He pointed to key elements the government should focus on: competition and tax policy.
"We're encouraged that the federal government has launched a review of the Competition Act to better align it to a modern economy," Ostler said. "The second is a taxation system that promotes investment and encourages growth. Our current taxation system is increasing the cost of capital and making it harder for companies to make the needed investments for our country to prosper."
Article content
It's a crucial problem to navigate as it provides economic vitality, more inclusive job growth and creation and leads to lower inflation, Ostler added.
On the competition front, Ostler said he was encouraged that the federal government had launched a review of the Competition Act and the CBA would be taking part in the consultation process.
Big banks starting to exhibit policy differences on climate change, advocacy group says

Smith Financial's deal for Home Capital shakes up alternative lending space

BMO debuts new technology funds that will be managed by Cathie Wood's ARK
Canada's productivity gap has been a long-standing issue that has threatened to stand in the way of economic growth. Bank of Canada governor Tiff Macklem spoke on this issue extensively during a February speech, speaking to how productivity and business investment could lead to non-inflationary economic growth.
Article content
"In the years ahead, business investment decisions will determine the path of Canada's productivity growth. And productivity growth is vital to non-inflationary growth and rising standards of living. At a time when inflation is already well above our target, this is more vital than ever."
This comes at a time when Canada's economic growth is expected to grind to a halt. The Bank of Canada projects that the country's gross domestic product will decline from 3.25 per cent this year to just under one per cent next year. It's then expected to recover to two per cent in 2024.
Emerging from one crisis and starting down a new swath of challenges, Ostler noted it is a critical time to tackle the productivity problem.
"Canada is emerging from a challenging period," Ostler said. "Having weathered the pandemic, we must face the challenge of generating a sustained period of strong economic growth to pay down the debts we have incurred, while also getting to net-zero and improving productivity.
• Email: [email protected] | Twitter: StephHughes95