Charleston company helping local restaurants divert food waste from the landfill | News
A Charleston-area business is helping local restaurants divert waste from South Carolina landfills.
Although the process is fairly straightforward, less than 25 restaurants are utilizing the services of SMART Recycling, which also counts the Charleston County School District, Horry County Schools, University of South Carolina, College of Charleston, The Citadel and the city of Charleston among its nearly 60 member users.
Founded in 2014 by Gary Bilbro, SMART Recycling collects food waste from its clients and delivers it to a composting facility in the three areas the company serves: Charleston, Columbia and Horry County.
Charleston restaurants using the 8-year-old company — Husk, Obstinate Daughter and Melfi's, among others — are making a difference.
Bohemian Bull owner Chad Biel said SMART Recycling helps his James Island bar and restaurant divert about 2 tons of waste from the landfill every month.
"We really did it because it felt like it was the right thing to do," Biel said. "Understanding what food waste does in a landfill is a big piece of it."
Food waste is the largest category of material that ends up in municipal landfills, according to the US Environmental Protection Agency. Once in the landfill, it emits methane, a powerful greenhouse gas that contributes to climate change. Municipal solid waste landfills are the third-largest source of human-related methane emissions in the United States, according to the US Department of Agriculture.
"When food waste is buried like that, it doesn't have access to oxygen," said SMART Recycling accounting manager Meghan McGill. "And when it doesn't have access to oxygen, it just rots."
Composting facilities break down the waste organically, producing a nutrient-rich soil supplement, McGill said.
"It creates this environment where the healthy bacteria can break that down and turn it into compost," she said.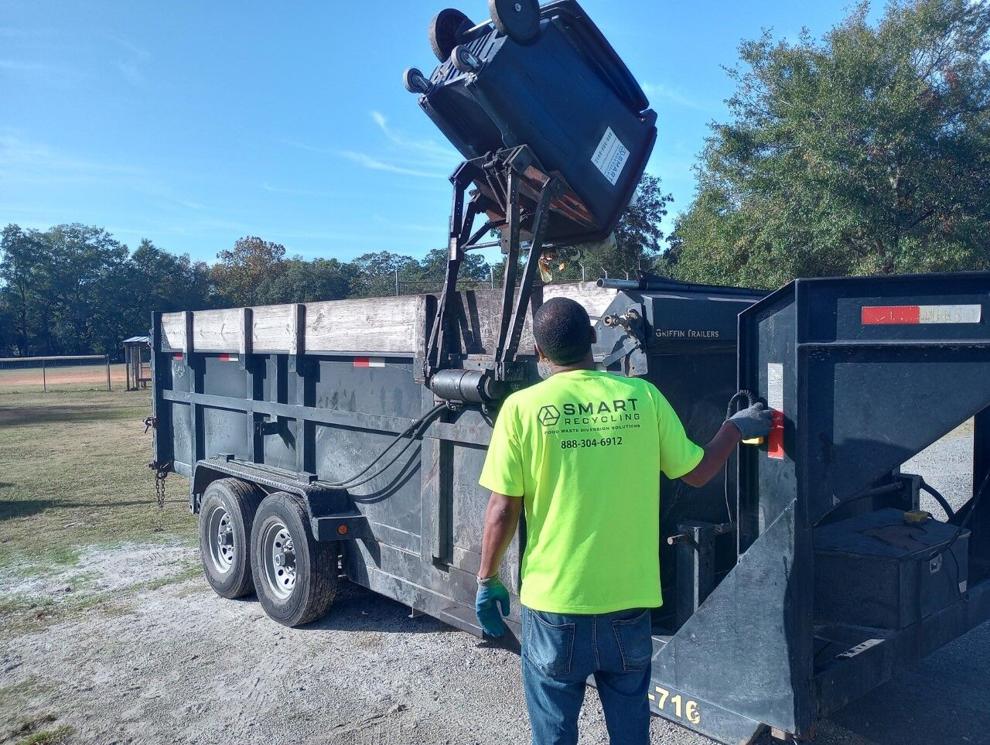 SMART is an acronym for Specialized, Measurable, Adaptable, Realistic and Timely. Before working with a restaurant or organization, SMART Recycling conducts a site assessment, decides the number of bins needed and trains the organization's employees along the way.
The for-profit company supplies 64-gallon carts to restaurants, picking them up and hauling them to the nearest composting facility. After they are emptied, the carts are pressure-washed and returned to the restaurant.
The service starts at $125 per month.
"It is a cost, so ideally they're caring about the environment. A lot of the fine-dining restaurants, they have a larger profit margin for this type of thing," McGill said. "We certainly want to see it grow."
SMART Recycling has saved Bohemian Bull money, according to Biel, by allowing him to scale back his garbage pickup service.
Biel estimates he was spending $400 to $500 per month on garbage pickup before teaming up with SMART Recycling seven years ago.
The $200 a month SMART Recycling now costs him is offset by cutting in half the cost of his garbage services.
Biel is preparing to franchise Bohemian Bull, with plans to add locations in Mount Pleasant, Greenville, Dallas and Jacksonville, Fla. He plans to utilize SMART Recycling at the South Carolina locations, but Biel will have to find an alternative in other states where the company focuses its operations.