FHQ sale of Sask. tech companies generate big returns
The sale of PLATO Sask Testing shares have brought in a 1,150 per cent return on investment, according to FHQ Developments.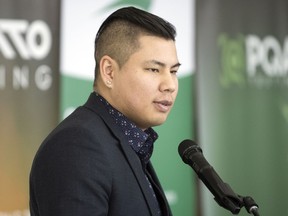 Article content
An initial investment of $80,000 has turned into a whopping $1-million return after Indigenous investment firm File Hills Qu'Appelle (FHQ) Developments sold its IT services business.
Article content
FHQ announced on Wednesday that the sale of its remaining PLATO Sask Testing shares to New Brunswick-based PQA Testing has brought in a 1,150-per-cent return on investment, generating thousands in new funds that will be invested into other ventures and 11 First Nations communities.
Article content
"It just gives us that further confirmation that we're on the right path with the types of businesses that we're creating, and that they are being impactful to our economy," Thomas Benjoe, FHQ president and CEO, said in an interview on Wednesday. "We took a start-up tech business, created value in that business and now we are ready to sell it for a significant return."
FHQ, which is an investment and economic development corporation for the File Hills Qu'Appelle Tribal Council, initially joined forces with PQA in 2019 to develop the software company.
Article content
It employs anywhere from 35 to 45 workers, Benjoe said, with most of them being Indigenous.
With the sale, Benjoe said staff at PLATO will continue to work at the company and have opportunities to grow their professional careers.
"I think this is absolutely the right time (to sell)," he said. "Obviously, we want to make some bigger plays in additional investment and there are some very, very significant opportunities that we can't turn away from."
New Indigenous tech company bringing software testing to Sask.

Labor drought bakes the 'Silicon Prairie'
Since its inception, Benjoe said PLATO quickly became successful in an industry that's competitive.
He said while the company checks all the boxes, its customers keep coming back because it goes above and beyond.
Article content
"Sometimes companies think we don't have the capacity to do certain things, but we've been able to demonstrate we're able to take young Indigenous talent, train them, develop them and put them to work in the industry. And they've done a fantastic job," he explained. "They've been able to take on contracts, not only locally within Saskatchewan, but nationally and internationally. We have fantastic relationships with our customers."
While revenue from the sale will go towards the 11 First Nations in the tribal council, Benjoe said the majority will be used to make further investments into other companies.
He said FHQ has its eyes on acquiring other businesses and plans to launch another start-up in December.
The corporation has also been working on having an ownership stake in an agriculture investment fund, allowing FHQ to participate in the protein sector, he added.
Article content
"We have a very successful model, so let's put that model to work," he said. "Let's raise capital with partners, and let's start investing, acquiring and building new assets."
Benjoe said even though FHQ's business model may require some patience, he hopes communities can see the value.
"I think it's been a long time coming that we're able to demonstrate to our communities that this is a successful model and you can expect to see this into the future as we continue to invest in more companies and build more companies," Benjoe said.
The news seems to be flying at us faster all the time. From COVID-19 updates to politics and crime and everything in between, it can be hard to keep up. With that in mind, the Regina Leader-Post has created an Afternoon Headlines newsletter that can be delivered daily to your inbox to help make sure you are up to date with the most vital news of the day. Click here to subscribe.