Former Canucks goalie Eddie Lack is back in business in Vancouver
Lack, who was a fan favorite nearly a decade ago, is thriving in his second career as a realtor in Arizona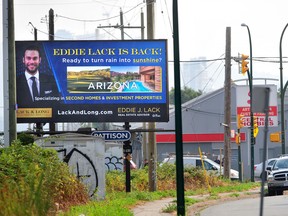 Article content
Are drivers headed eastbound on Grandview Highway in Vancouver ready to turn right and head way south?
That's what former Vancouver Canuck Eddie Lack is hoping.
Article content
Lack, the lanky Swedish goalie who was a fan favorite nearly a decade ago, is thriving in his second career as a realtor in Arizona, where he settled after his playing career came to an end because of persistent hip problems.
"I hope there's a ton of red lights over there," he quipped Monday morning after the sign was spotted by a Postmedia editor.
"I usually start getting calls when it starts raining in Vancouver so I figure it's pretty good timing."
Article content
He figures about 30 per cent of his business, which is centered in Scottsdale, Ariz., comes from Canadians looking for investment properties and secondary homes.
"For a lot of my clients it's the most expensive purchase they're going to do in their life. I feel really honored to help them," he said.
Always known for his upbeat personality and outgoing nature, he knows these traits are well-suited to working in real estate.
"I joked to my wife Jonna last week I love the people … most of the time," Lack said with a laugh.
Being a former hockey player has also helped with Canadians too, he admitted.
"I think that's my way to get my foot in the door. From there it's up to me to prove to clients I can do the job," he said.
"When I get Canadians that come down, I think that they're always a little bit skeptical at the beginning. 'He's a hockey player so does he know what he's doing?' But usually once they see me, they can see I know," he said.
Article content
Real estate is a bit of a family business.
"I was doing some investment in real estate while I was still playing back home in Sweden. My family does a lot of that back home and they taught me how to do it," Lack explained.
"My wife and I, we decided to settle in Arizona instead of cold Sweden. I bought a few rental properties here and I decided to get my license. That was always in my plans. Obviously wished I was still playing but I felt like this is fun. It's a way to help and guide people."
Lack underwent major surgery on his hips in late 2019. While he was recovering, he decided to start studying for his real estate license.
"Then I had to wait to decide if I was actually going to retire," he said.
He started as a realtor around Christmas 2019, but didn't decide his playing career was fully over until a few months later.
Article content
Retirement was forced by injury but he is at peace with his hockey career coming to an end.
"I think I'm always going to ask what if," he admitted. "I'm seeing my friends that I played with growing up and they're still playing and getting these great contracts. I'm always going to always ask – what if? — but I'm super happy with where I'm at. I'm not waking up with pain. I'm not worrying about whether I'm playing at night."
And he's getting a special bonus: he's always around for his daughter.
"My daughter Sophia is almost two now. I'm there every day," he said. "It's so important. Building that relationship with her from the start. That's what a lot of hockey players complain about, that they're gone so much, they miss a lot with their kids — their first steps and everything like that. I am fortunate for this."
pjohnston@postmedia.com
Young Stars: Canucks looking at a diminutive forward with a familiar name

The top 5 Vancouver Canucks prospects to track this season