Saturday is looking better. After evening rainfall tonight, looks like any rainfall departs the area by sunrise.
Expect then a mostly cloudy sky for a while before turning partly cloudy for the afternoon.
It will be a cold, windy morning despite sun with lows 41-47 & wind chills 32-39.
The day itself will be windy with northeast winds gusting to 35 mph at times, but highs should reach 56-66. It will be coolest in our far northwestern & northeast areas with cold lake influence.
The rest of the area will tend to run 62-64 with 65-66 in the far southwestern areas.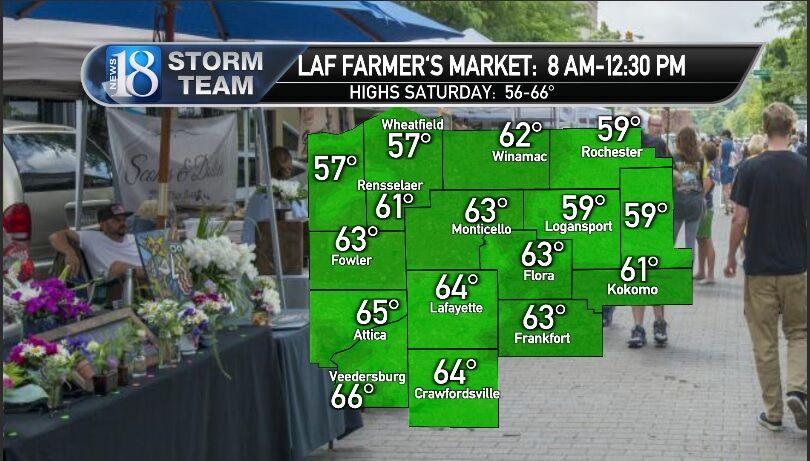 With mostly clear skies & winds diminishing, lows of 36-40 are possible tomorrow night. A few patches of light frost are possible in low-lying, sheltered areas.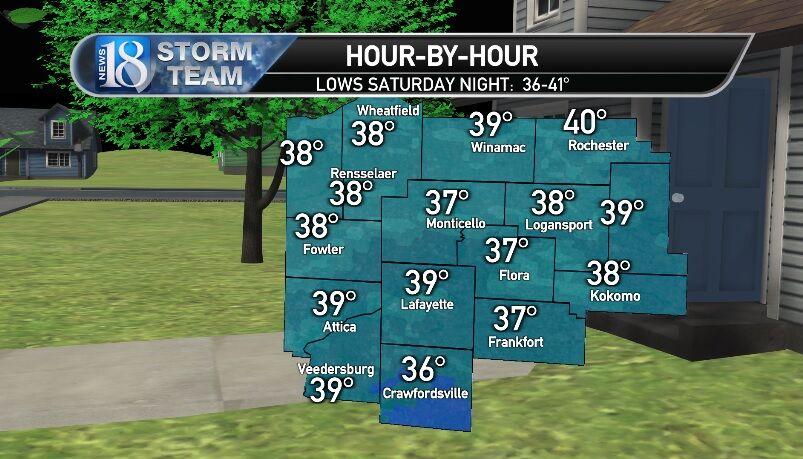 Mostly cloudy, highs of 63-73 are expected Sunday with coolest temperatures in our northeastern areas.
Winds will be southeast at 15-33 mph.
Next week looks very hot and dry with massive upper thunderstorm taking over the central & eastern US through eastern to northeastern Canada.
I wouldn't go for the wet light over the area. Evaporating water tends to cut down your high temperatures.
The flood rains in the Plains are over 90s to 100 as far north as Kansas.
This is a testament to the strength & sinking of the upper ridge developing over the tremendous California to New Mexico & Chihuahuan Desert dryness.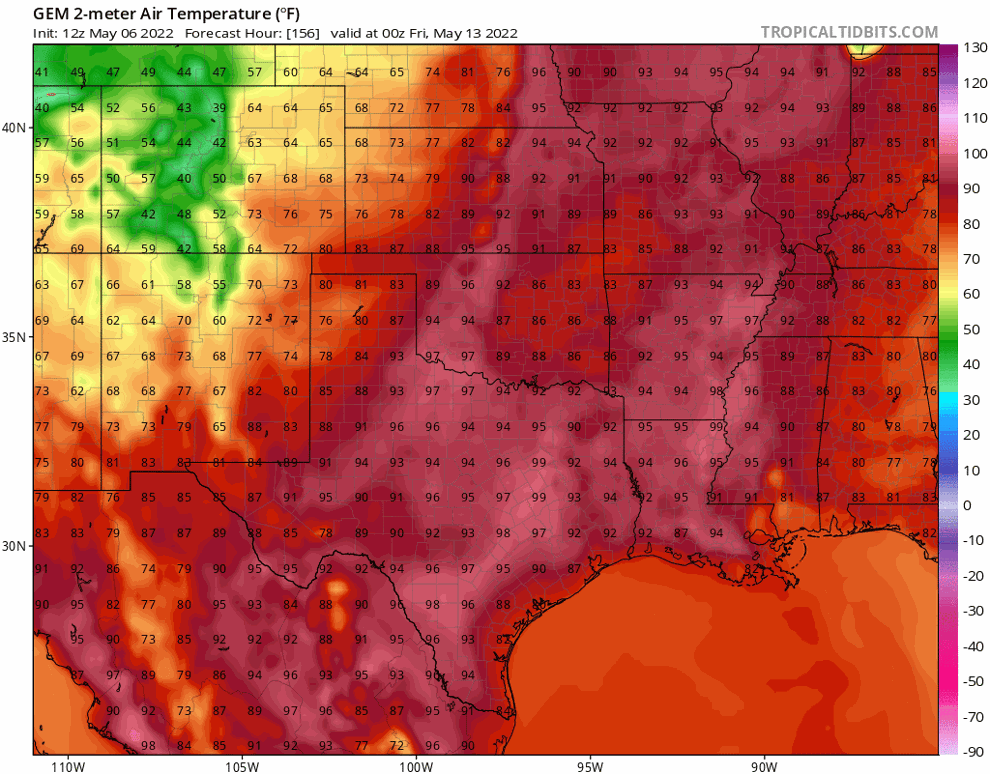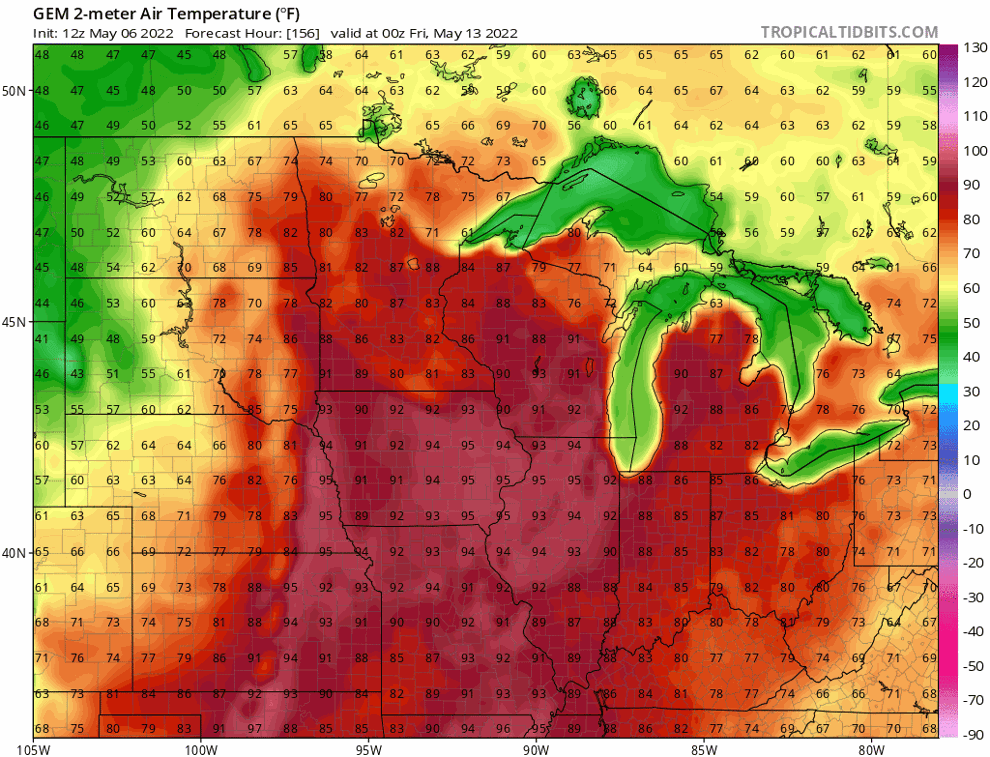 All of the storms & overall severe weather stays well west & northwest of our area still at this point.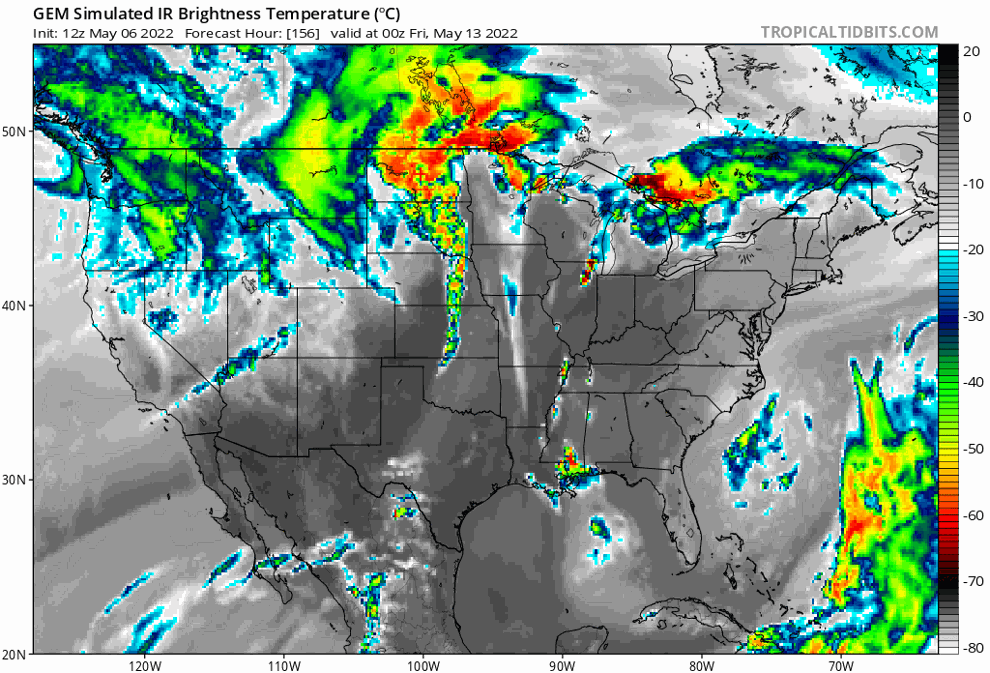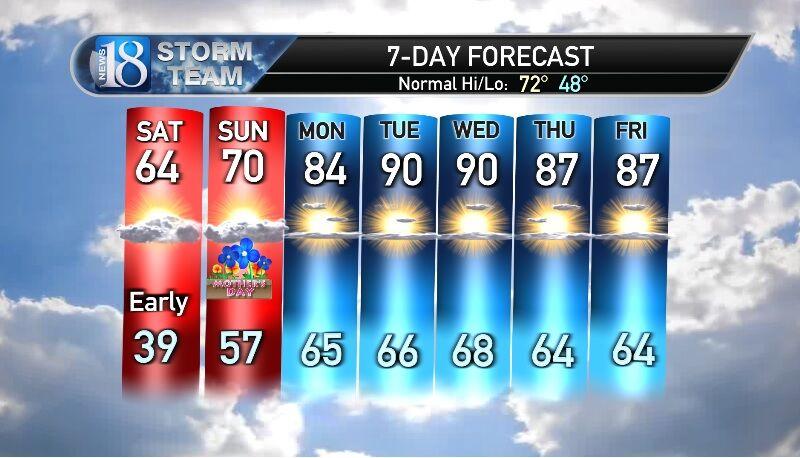 Next widespread rainfall doesn't look like until around May 16 at this point.
Looks like severe weather risk parameters get in here.
The potential is there for multiple rounds of t'storms over a 36-hour period.
The intended Canadian model IR satellite shows this: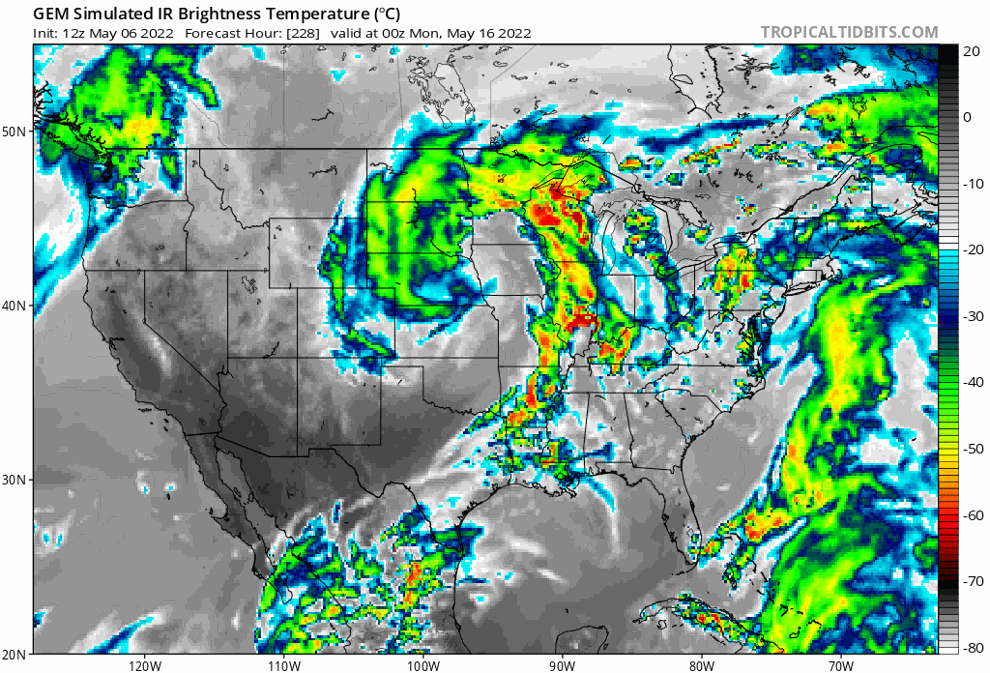 Cooler shot arrives after that with highs 60s to 70 with lows in the 40s May 18-19.
Thoughts are back to heat & storminess May 21-22 with severe weather risk.
Late May to mid-June shows above normal temperatures overall. There will likely be one cooler spell, but the overall trend will be warmer than normal.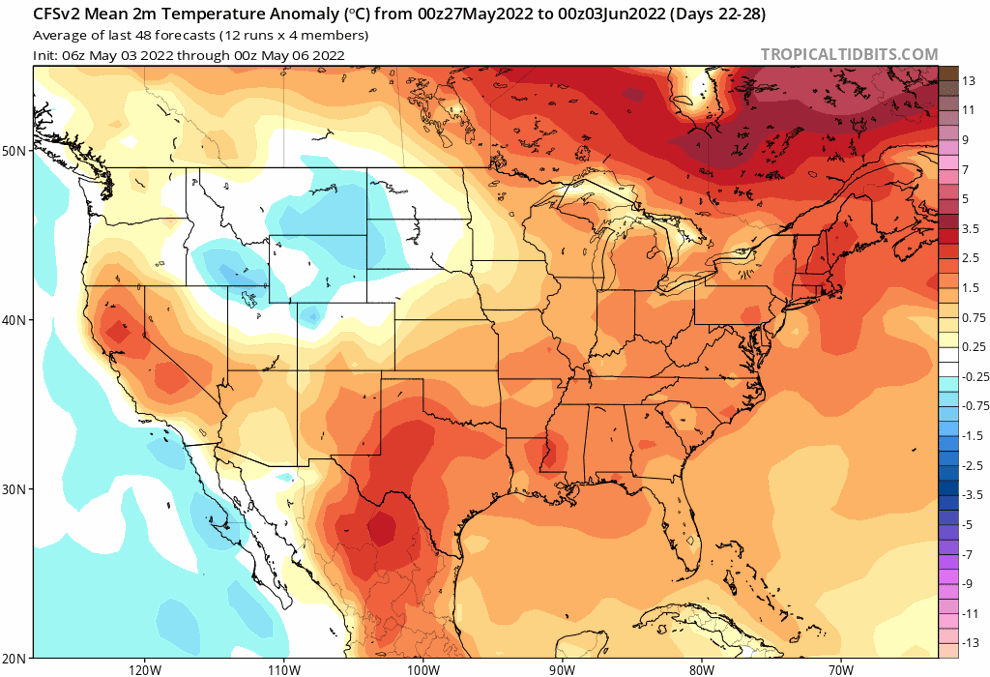 Big change is this "Ring of Fire" pattern of above normal rainfall setting up from Ohio to Nebraska (basically the Corn Belt).
Given the time of year in which this regime occurs in late, late May & then a round of this regime in early June would signal severe weather risk.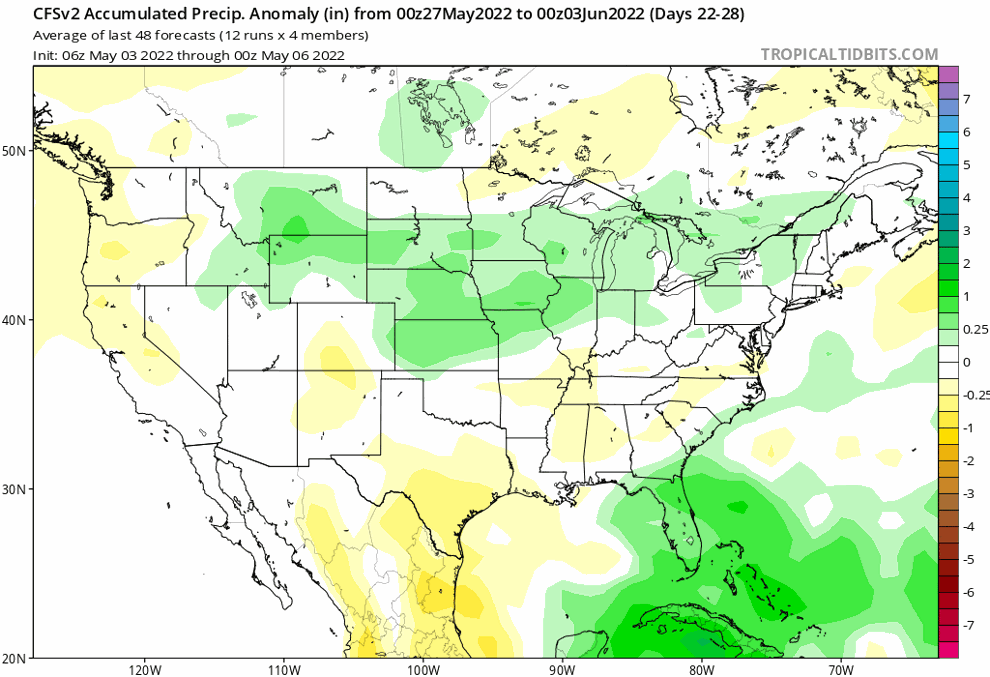 The very wet pattern in the Plains now seems to be shifting the early-term drought regime in the Plains. Watching rainfall patterns in May helps mold early-season drought position & intensity.
So, that said, this wettening of light is a feedback mechanism. Even though the ridge next week will be very dry in the Plains again, there are signs of many severe weather next weekend there.
This would seem to tilt the pendulum with the surface to atmosphere feedback to keep it rather wet in the central Plains for May, especially the farther north you get from Mexico, Texas & New Mexico. That said, we can see more about the droughty pattern here until July, rather than this beginning to evolve in June.
In fact, it looks like this would be VERY MUCH like 2011 with wet Spring to early half of Summer then flash drought with 100s by mid-July.
.