Real estate activity remains muted in the face of steep rate hikes
"I would normally have 20 to 30 showings in a weekend. Now – if I had that in a month I would be surprised": Realtor Anna Oliver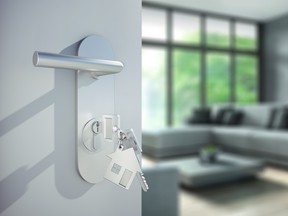 Article content
Rising interest rates, poised to increase again Tuesday, continue to slow the number of homes changing hands and hitting the market, according to a real estate agent and a mortgage broker.
Article content
The slowdown comes as most economists predict another major move by the Bank of Canada on Sept. 7.
Article content
"Buyers are taking their time before buying. I had listing and they buyers looked at it in May and didn't offer on it until August," said real estate agent Anna Oliver, who is a member of The Agency Toronto. "I would normally have 20 to 30 showings in a weekend. Now, if I had that in a month, I would be surprised."
Another significant increase is expected next week.
Evidence Wednesday shows the economy is beginning to slow.
"Right now were bracing for a hike," said Leah Zlatkin and expert and licensed mortgage broker with LowestRates.ca. "For those people who are affected, it is a dramatic increase. But, hopefully, people have budgeted accordingly."
Article content
It is unclear exactly how many Canadians hold variable mortgage rates, which rise as the central bank hikes.
But in February, the Canada Mortgage and Housing Corporation (CMHC) said 55% of Canadians with mortgages chose a variable rate.
That was before the Bank of Canada started hiking aggressively.
"If you're thinking back about a year ago when rates were closer to two percent for anyone who bought a home at that time, this feels very much like a freight train hitting you."
Several major banks have forecast another increase for weeks.
"While headline real growth landed shy of the BoC's most recent forecast of 4%, the overwhelming power in nominal GDP growth will keep them squarely on the tightening track," said Douglas Porter, Chief Economist and Managing Director at BMO Economics, in a Wednesday commentary to clients.
Article content
RECOMMENDED VIDEO
"We now look for a 75 basis point hike next week, with an outside chance of a larger move (a la their July 100 basis point surprise)."
Derek Holt, Economist with Scotiabank, is on the same page.
"Canada's economy is fitting our narrative of cooling momentum into the third quarter," he wrote after Wednesday's snapshot of overall economic activity.
"That's not going to be anywhere close enough to be meaningful to the Bank of Canada that is expected to hike by 75 basis points next week and keep the door open to further tightening thereafter."
Bank of Canada rate increases cool real-estate prices: Report

LACKIE: Sellers in uncharted waters hoping real estate heats up in fall

Millennials remain hopeful they will be homeowners: Poll
Home sales fell in July by 47% compared to July 2021, according to the Toronto Regional Real Estate Board (TRREB).
"As buyers continued to benefit from more choice, the annual rate of price growth has moderated," TRREB said in its last report.
The average selling price in the GTA was $1,074,754 — up by 1.2 percent compared to July 2021.