MILTON-FREEWATER – It's fair to say Ryan Lieuallen is pretty buzzed about the blueprint being drawn up for his family's business and their future.
Lieuallen is founder of The Sweet Bee Honey Company, which sells a variety of honeys, bees in bulk, pollination services and queen bee cells.
Located near the more civilized entrance of primitive Lincton Mountain Road off the meandering Walla Walla River Road, the Lieuallen home and bee farm is hidden from every beaten path in the area.
Yet it is definitely coming onto the radar of winemakers, chefs and foodies around the region, thanks to a focus on sustainability and meticulous attention to the plight of honey bees, plus a high-quality product.
The company's tasting and sales room is also onsite, open on Fridays and Saturdays, luring honey seekers into the hive of activity often going on inside the modern industrial-meets-working farm space.
Lieuallen is the fifth generation in his family to tend bees, he said, a lineage that began in 1860.
"I was born into the system," he said, recalling images of the winged creatures adorned everything in his childhood home, from silverware to the walls.
Speaking via phone from Montana, where Lieuallen was working on a well on his land, he recalled in an interview with the UB long days in the car with his dad and sister, going hither and yon to the family's bee yards.
"And sleeping bags in the car when we moved bees at night."
Still, running an apiary wasn't part of Lieuallen's life plan when he graduated from McEwen-Weston High School in 2005, even if he did start his own bee operation in 2006 "as a summer gig."
He did not know then that the time already spent under the tutelage of his mother's father, Edmund Varney, would later come knocking.
Varney, a retired career beekeeper, taught the slightly wild teen about sustainable beekeeping and, more importantly, about being a good human, according to Sweet Bee's marketing.
But Lieuallen's father had imparted his business acumen to his son, meaning the young man could clearly see there wasn't really any money to be made in the bee business – any wealth came from investing in land needed for the pursuit, he explained.
He headed off to Washington State University, with plans to focus on business and entomology, the study of insects.
Business won out – "I knew how to do bees," he said – and he ended up back where he started. But not before gathering important tools, such as how to collect bee semen for research.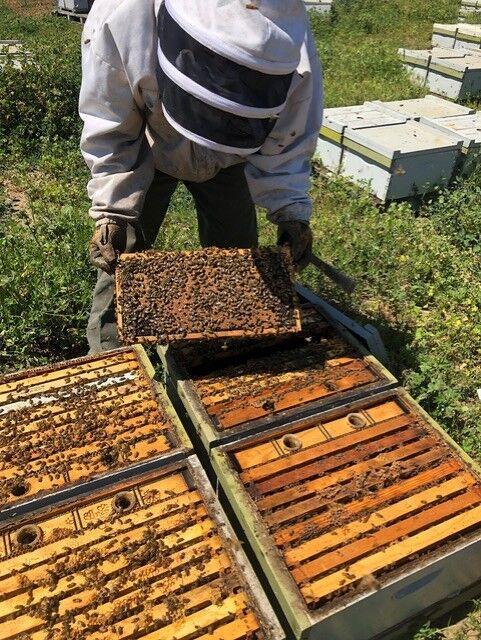 Lieuallen spent a year in Argentina, immersed in work as part of WSU's honey bees and pollinator research program to help breed a more durable bee that can better fly in the face of environmental, parasitic and infectious dangers.
One branch of that work is designed to enhance America's honey bee diversity through importation of semen from "Old World" sources, which number in the hundreds of thousands of bee lines, Lieuallen said.
"In 2009, when I was graduating from college, we only had 650 queen mothers in the US Only 650 lines of bees."
By 2014, Lieuallen had found and married his own "queen," and the couple purchased the 15 acres of land on Lincton Mountain, home base to about 5,000 bees.
Before long, two daughters, Cadence and Sierra, joined the Lieuallen colony.
Somewhere in there, honey prices fell. Lieuallen remembered lessons from his father and knew changes were in order, including diversification and "vertical integration" within the company.
In this case, that meant asking his wife, Stacie Lieuallen, to take on an active role in Sweet Bee Honey Company.
Before deciding to stay home with their children, Stacie Lieuallen had taught high school health and PE for a dozen years. It was a career she loved, especially enjoying how she could positively impact the lives of teens, and she expected to return to it.
"I told her this was a great time to do it," Ryan Lieuallen said. "And with me supporting us, it was a great time to develop her knowledge."
It wasn't an easy "yes" to her husband's request, Stacie Lieuallen said, noting it took about a year for her to find her own path into the family business.
The challenge to the survival of the American honey bees touched her heart, though, and the educator realized she could bring her teaching skills to the table.
The tasting room table, to be precise.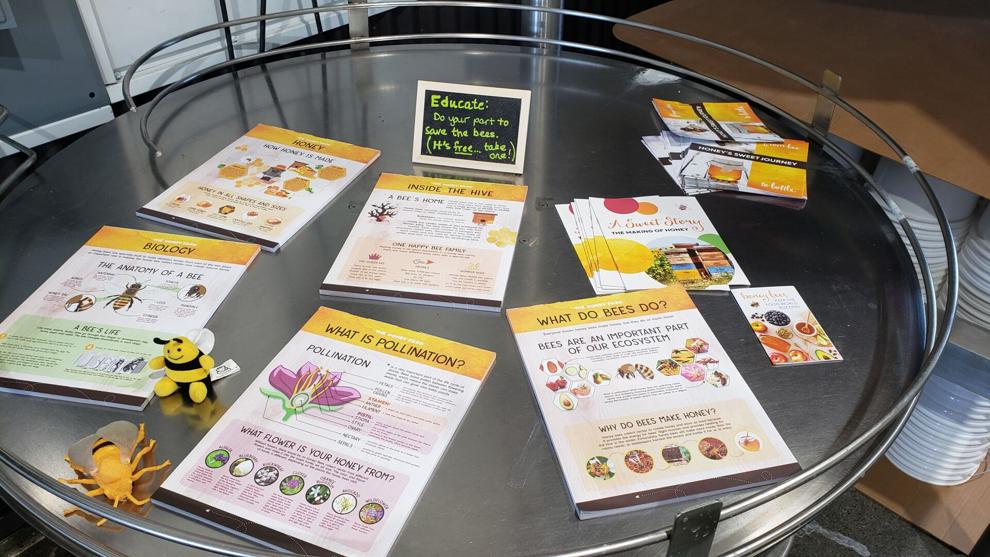 Stacie Lieuallen spent months designing all things retail for Sweet Bee Honey Company, including that brand new tasting room.
On a recent Friday, the space was filled with children and their parents from a homeschool group on a field trip.
As kids colored bee-themed pages and made seed balls with pollinator-friendly flower seeds, adults admired beeswax candles and indulged in honey tastings featuring five flavors.
"I love this," said Angela Lund, who had brought her whole family on the trip and had decided to purchase a jar of product.
"I want to start using honey instead of sugar in my recipes. It's much healthier. "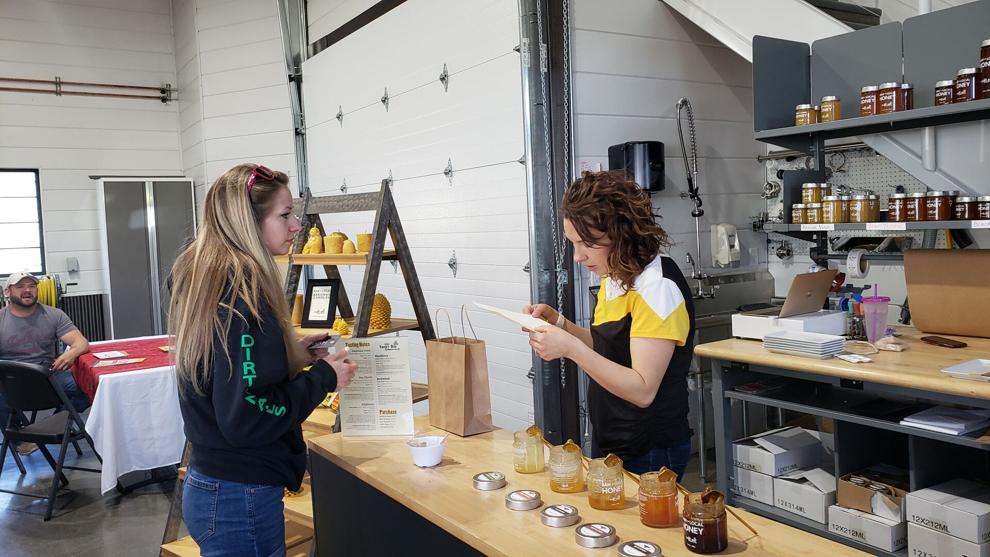 Each varietal is achieved by setting hives in a spot surrounded by the desired plant, which can only be accomplished in states with space and laws allowing for that, Ryan Lieuallen said.
Like in Montana, where a beekeeper can put hives in a registered bee yard, meaning no other bee farmer can place hives within a 3-mile radius, fit to a bee's natural ranging area.
The practice reduces disease transmission and other issues, he said.
When he found the right land in Montana in 2016, he ran the operation for two years to measure it to fit with his business, Ryan Lieuallan said.
"In 2018, we bought it on my birthday. Two-thirds of our operation comes from here, October through April, and one-third stays in Oregon, Washington and Idaho. "
California and its heat play a role in the products, as well.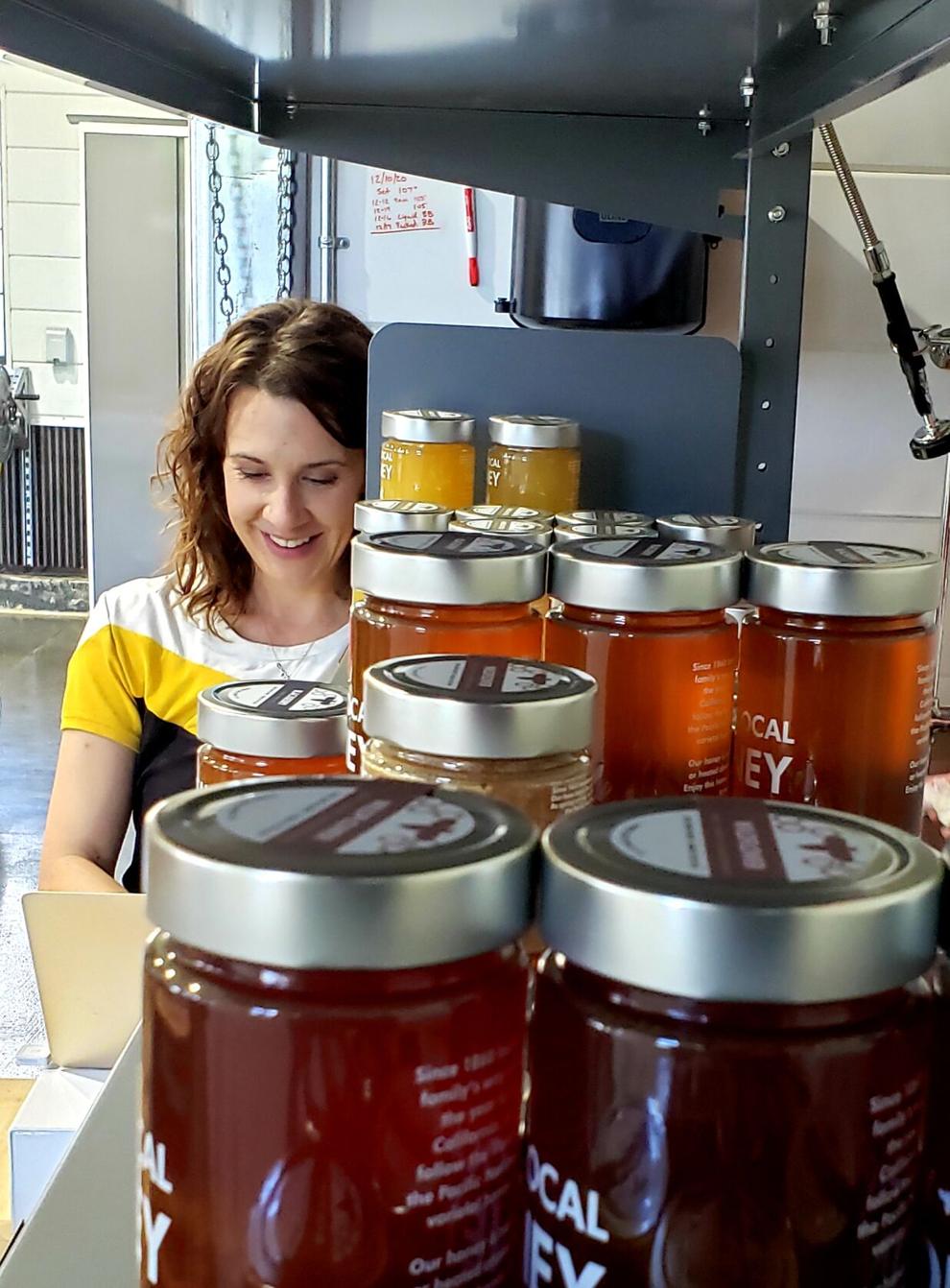 In the space she cultivated, Stacie Lieuallen teaches her customers about bee health and honey properties. On this day, tasting flights offered puddles of American vetch, star thistle, wildflower, blackberry and buckwheat honey.
Each flavor profile is distinct, from the subtle tang of the blackberry to the simpler sweetness of the vetch to the long finish of the thistle. In coating the tongue, buckwheat's toasted, smoky and robust taste instantly creates a desire for seconds.
Like a bee to a flower, Stacie Lieuallen uses honey samples to draw folks in to enlist them in saving the bees, who need all the help humans can offer.
"Bees are really struggling," she said. "Bees are part of our ecosystem and always should be."
The Lieuallens have big plans for the immediate and far future. They anticipate their children will have the same immersion into the business their father had, the better to continue the legacy.
By the time that happens, Sweet Bee Honey Company will be even tastier, the couple predicts.
Growth will come from setbacks, hard work and flexibility to find their own niche in a saturated market, Ryan Lieuallen said.
Both are willing to shoot for the moon. There are honey varieties most people have not had the fortune to taste, such as one made with Japanese knotweed, red in color and tasting like licorice.
There's adjacent land to buy, trees to plant, walking paths to create, a tasting room patio where live music can be played and people can come to relax, Stacie Lieuallen said, a smile on her lips.
Because, she knows, the more people who fall in love with the story of bees, the better the survival rate of the honey makers.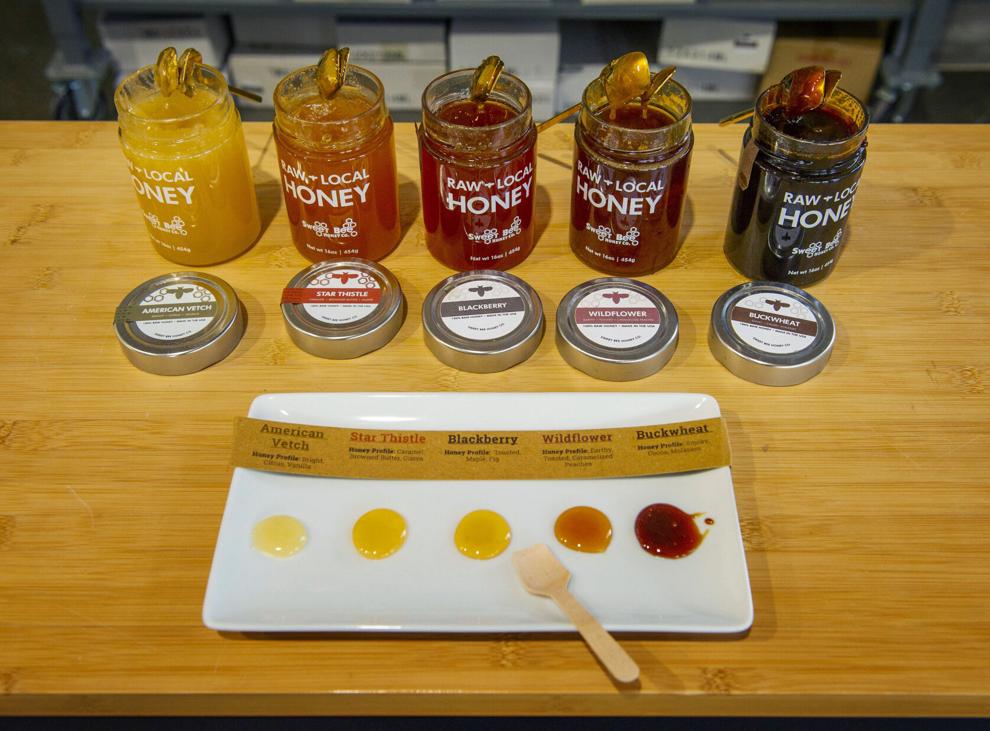 Some of that is coming to fruition now, she said, noting that a cycling group heading to Harris Park up the Walla Walla River later this month will be stopping by the Lincton Mountain business.
This corner of the Pacific Northwest has reached the right moment for a company like theirs to fully bloom, the Lieuallens believe.
"I think our area is about the perfect size," Ryan Lieuallen said.
"I think bigger won't be better, I think smaller wasn't better. I think for the next five years, we're in the sweet spot in the Walla Walla Valley. "
.