Tesla launches Cloud Profiles in update 2022.24
The long-rumored "cloud profiles" are finally arriving in Tesla update 2022.24.
Tesla is officially calling the feature 'Tesla Profiles.' With this latest update, you'll be given the option to tie your driver profile to your Tesla account.
If you decide to connect your profile to your Tesla account, some of your vehicle's settings will be able to travel with you from one Tesla to another.
Settings such as mirror, seat and wheel positions will be synced across other supported vehicles. So if you're lucky enough to have multiple Teslas in your household and adjust your seat in one vehicle, then the setting will automatically be synced to the other vehicle.
Once your Tesla account is linked to a car profile, that car's profile will automatically appear in any other Teslas under your account.
These vehicles could be rentals or owned by you. As long as they show up in your Tesla app then your car profile will become available on that vehicle.
Having your car profile sync to multiple vehicles will be especially useful when renting to Tesla. It'll provide a consistent experience across vehicles and it'll save you time from having to adjust preferences such as your seat, mirrors, music preferences, and more.
This could be important for certain settings such as 'Stopping Mode'.
When you first get in the car, you may expect it to behave like your own Tesla and if the Stopping Mode is set to something unexpected, like roll, it could lead to confusion.
If you rent a Tesla or use one as a loaner, it'll feel almost magical being able to get in it and have it automatically adjust to you.
Tesla Profiles will go beyond just seat adjustments. It'll also include some vehicle settings, such as Autopilot, driving preferences, and climate control settings.
According to Tesla's release notes, navigation, media and data sharing preferences will also be tied to your Tesla account and sync over to other vehicles.
Synced settings will also include navigation favorites and recent destinations.
You'll be able to distinguish whether you're using a cloud profile or a local profile in your vehicle because Tesla Profiles will now include your profile photo from your Tesla app instead of the standard person silhouette. Your profile photo will appear next to your driver's profile name.
Tesla's release notes for this feature state:
Keep your settings and preferences synchronized across all supported vehicles using your Tesla account, including:
Mirror, seating and steering wheel adjustments
Autopilot, driving and climate control preferences
Navigation, media and data sharing preferences
You can set up your Tesla Profile from Driver Profile settings and change your profile picture from the Tesla Mobile app.
This feature has been in the making for a while, with Elon first mentioning that Tesla would be moving info and settings to the cloud in August 2017.
Tesla's 2022.24 update also includes improvements to the Blind Spot Camera feature.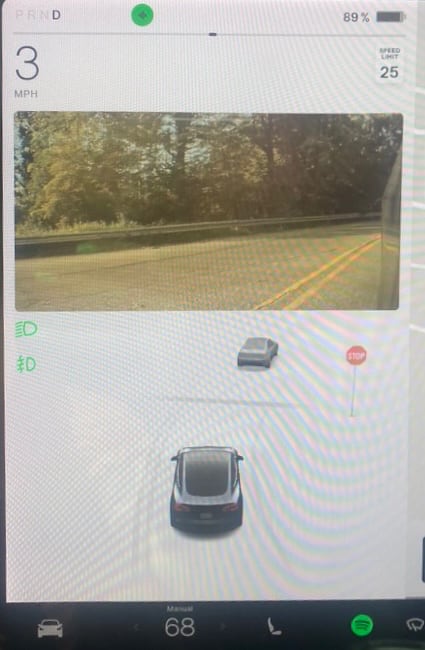 Tesla's newest update 2022.24 is now in the beginning stages of rolling out.
While it's still early and it may be several weeks before your vehicle receives the update, we're now hearing about some of the first features in this update.
Tesla introduced its Blind Spot Camera feature in late 2021 with the holiday update.
Blind Spot Camera lets you display your vehicle's fender camera feed displayed directly on the screen when you activate your turn signal.
This is the same camera view that can be displayed when you put your car into reverse.
In Model 3 and Model Y, the blind spot camera feed normally appears in the bottom left corner of the screen. While this keeps it close to the driver, it is obscured by your hand or the steering wheel at times.
With update 2022.24 Tesla is fixing this. Not only is Tesla improving the location of the Blind Spot Camera, but they're going to let you choose its location.
You'll be able to choose whether the Blind Spot Camera appears in its original bottom left location, or you'll be able to change it so that it appears at the bottom right corner, top right, or even the top left corner of the screen.
This slight improvement is going to make the Blind Spot Camera much more convenient for a lot of owners and it's sure to be one of the most exciting features in Tesla's 2022.24 update.
Thanks to a loyal reader for this information. For information about Tesla's 2022.24 to come soon.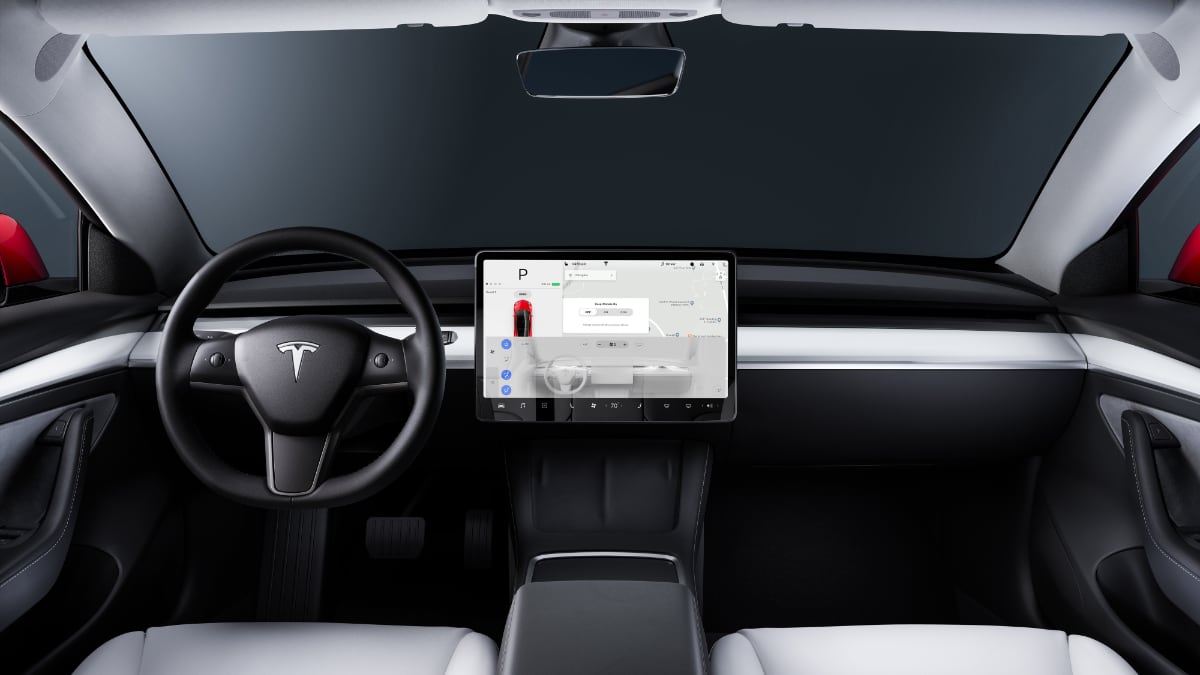 Tesla has stopped offering free unlimited Standard Connectivity for new vehicle orders.
According to Teslarativehicle orders placed after July 20, 2022 will include free Standard Connectivity for a period of eight years.
The EV automaker will notify owners when their free Standard Connectivity is about to expire. Tesla's Connectivity section on their Support page reads:
"All new Tesla vehicles ordered on or before July 20, 2022, will have Standard Connectivity features at no cost for the lifetime of the vehicle (excluding retrofits or upgrades required for any features or services externally supplied to the vehicle – eg telecommunications network). As additional features and services become available in the future, you will have the opportunity to upgrade your connectivity plan."
At $9.99 per month or $99 for a year, Premium Connectivity is worth the upgrade right now.
The contrast between Standard and Premium Connectivity is quite drastic; there aren't many reasons to argue for staying on Standard. I think the live traffic visualization and music streaming are worth $9.99 alone.
The features included in Premium Connectivity further enhance the vehicle's features and are important for the full experience of owning Tesla. Premium Connectivity also includes live traffic visualization, satellite-view maps, video streaming, Caraoke, live Sentry Mode view, and a few others.
"An important part of all Tesla vehicles, further enhancing the driving experience by providing access to features that require data usage – including streaming music and media, live traffic visualization, and more," reads the Tesla Connectivity page on their Support section.
Tesla has yet to say what the price of Standard Connectivity will be since the first cars to expire are still eight years away, but we can speculate it may end up being somewhere around $5/month.
Currently if you do not subscribe to Premium Connectivity, you can still use some of the premium features such as music streaming or watch Netflix if you're connected via a Hotspot or WiFi connection. However, Tesla has added a new footnote to their site that suggests this may not always be the case.
The new footnote reads that items such as music and video streaming, internet browsing, Caraoke and others are "Currently available over Wi-Fi for Standard Connectivity."
It appears that Tesla either has plans to make these features exclusive to Premium Connectivity subscribers or that they're at least leaving the door open to change their minds in the future.
Although Tesla does not explicitly call it out on their website, it's expected that you will not need Standard Connectivity to use the Tesla app and that functionality will remain intact with or without Standard Connectivity.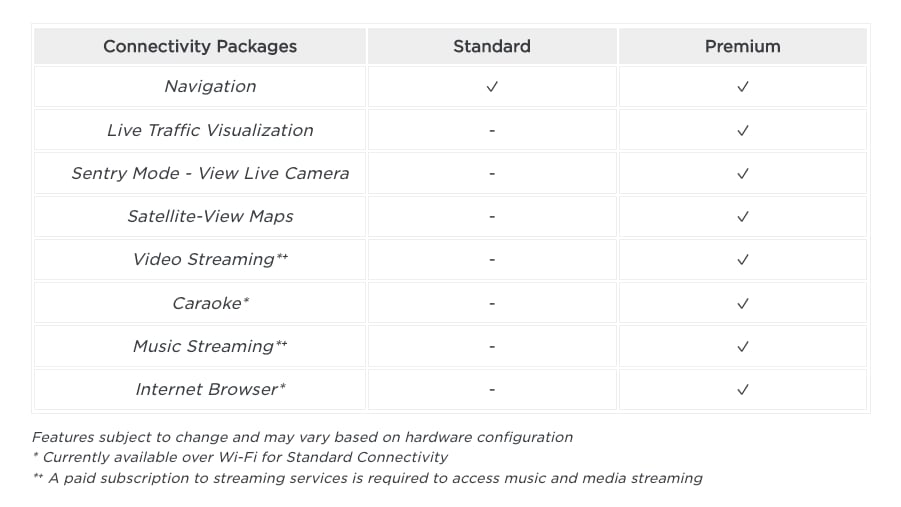 The features that will no longer work without Standard Connectivity will include maps, navigation and voice commands. There may be others as well if Tesla adds any new features that require connectivity in the coming years.
Tesla will still include WiFi and cellular connections in the vehicle so that the app and software updates continue to function properly, so this comes across as a small money grab by Tesla.
The current bandwidth costs for Tesla are very small since Standard Connectivity doesn't feature any bandwidth extensive features. To take away a feature like navigation seems odd, especially since it takes up two-thirds of the screen in a Model 3 or Model Y and the owner has no way to replace the maps with anything else.
It may have been preferred for Tesla to raise the price of their vehicles by a few hundred dollars (assuming Standard Connectivity would cost $5/month or $60/year) rather than reduce the functionality of the vehicle.
| Feature | included | standard | WiFi / Hotspot | premium |
| --- | --- | --- | --- | --- |
| Phone Notifications | | | | |
| Ability to Use Tesla App | | | | |
| Voice Commands | | | | |
| maps | | | | |
| navigation | | | | |
| Video Streaming | | | | |
| karaoke | | | | |
| Music Streaming | | | | |
| Internet Browser | | | | |
| Live Traffic Visualization | | | | |
| Satellite-View Maps | | | | |
| Sentry Mode Live | | | | |
If we look at this in a slightly different way, it looks like Tesla is essentially going to charge a monthly subscription for the use of its navigation system, which isn't a great look for the leader in car software.
This is one feature I hope Tesla backtracks on.